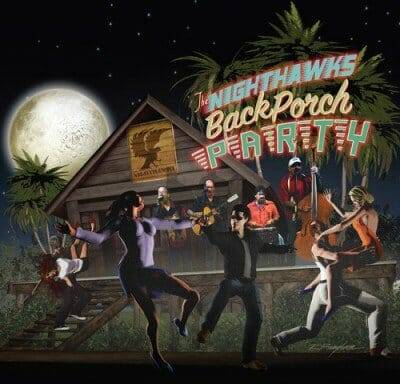 The Nighthawks
Back Porch Party
Eller Soul Records
This is the twenty-eighth album from The Nighthawks who formed in 1972. The earliest lineup on record included Mark Wenner, harp; Jimmy Thackery, guitar; Jan Zukowski, bass; and Pete Ragusa, drums.
Thackery left in 1987 to form Jimmy Thackery and The Drivers. Drummer Ragusa left the band in 2009. After forty-three years the Nighthawks are still led by Wenner.
The band today is Wenner, harp and vocals; Paul Bell, guitar, Johnny Castle, bass; and Mark Stutso, drums. In 2011 the Nighthawks won the Acoustic Album of The Year Blues Music Award for their 2010 "Last Train to Bluesville" album on the Rip Bang Record label. Since then they released "Damn Good Time" on the Severn Records label and last year's "444", their first album on Eller Soul Records. This live acoustic set is a sort of follow up to their award winning "Last Train to Bluesville".
The band mixes originals and roots oriented covers. Their high energy is contagious. The opening track "Rock This House" was written by James A. Lane a.k.a Jimmy Rogers. He was a member of The Muddy Waters Blues Band and often is referred to as Muddy's partner. This song was first recorded by Rogers in 1974.
"Walkin After Midnight" was the first single for Patsy Cline recorded in 1957. Wenner sings lead. Let's face it he's no "patsy" but his version is a lot of fun.
"Down in The Hole" was written by Tom Waits in 1987 and first performed as a Blues by John Campbell in 1993. The Nighthawks version is frightening good. "Matchbox" is from Ike Turner. "Tiger in Your Tank" was written by Willie Dixon.
Both "Jana Lea" and "Hey Miss Hey" are originals from bassist Johnny Castle who does a great job singing lead. "Guard My Heart" is written and sung by Wenner.
"Rolling Stone" is the Muddy Waters classic. "Down to My Last Million Tears" was written by Norm Nardini and included on the Nighthawks "Damn Good Time" album. "Rooster Blues" was written and recorded by Otis Hick a.k.a. Lightnin' Slim in 1960.
"Back to The City" was first recorded by The Nighthawks in 1983 when Jimmy Thackery was still a member of the band.
This is a great set from the Nighthawks who sound as fresh as ever. Fans will love it.
Richard Ludmerer