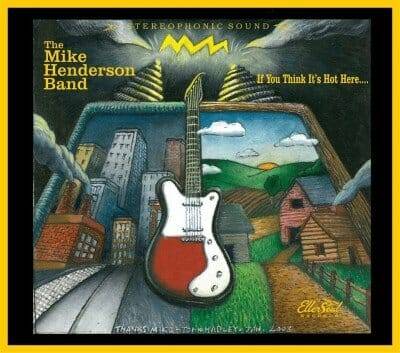 The Mike Henderson Band
If You Think It's Hot Here…
Eller Soul Records
Mike Henderson has been a member of the Bel Airs who recorded for Blind Pig Records in 1984. In 1988 The Fabulous Thunderbirds recorded his song "Powerful Stuff" which he had written for The Kingsnakes of which he was also a member. In 1989 they changed their name to The Snakes and released an album on Curb Records. His songs have been recorded by The Dixie Chicks, Patty Loveless and Trisha Yearwood. Henderson has played on albums by Emmylou Harris, Kelly Willis, John Hiatt and many others. More recently he has been a member of the bluegrass band The Steel Drivers.
Henderson co-founded Dead Reckoning Records and in 1996 released "Edge of Night", the second cd under his own name. His cover of Eddy Clearwater's "I Wouldn't Lay My Guitar Down" received considerable airplay.
In 1996 Mike Henderson and the Bluebloods released "First Blood"; that band included Reese Wynans, Glen Worf and John Gardner. In 1997 that band received a Blues Award nomination for Best New Blues Artist. Their followup recording "Thicker Than Water" was released in 1999.
Henderson has maintained a long standing relationship with Tracy Nelson appearing on her 1995 Rounder recording "I Feel So Good" and her 1996 follow up "Move On". He has since reunited with Nelson several times. In 2011 he appeared on Nelson's "Victim of The Blues" album and it received a 2012 Blues Award nomination for "Traditional Blues Album of The Year".
Also in 2011 Adele performed Henderson's "If It Hadn't Been for Love" and that song appears on her "Live at the Royal Albert Hall" DVD.
This newest album was released on January 20th of this year. The band on this recording includes Henderson, vocals, guitar and harmonica; producer Kevin McKendree, keyboards, Michael Rhodes, bass; and Pat O' Connor, drums. Henderson has written several new songs including the opening track "I Wanna Know Why"; Weepin' and Moanin'; "Rock House Blues" co-written with McKendree; and the title track "If You Think It's Hot Here…" co-written with Bobby Field. The cover painting is by John Hadley.
Henderson honors some of our greatest blues icons, most of them guitarists, by including some older songs. "Send You Back to Georgia" and "It's Alright" are from Hound Dog Taylor. Also included are Muddy Waters' "Mean Red Spider"; Robert Johnson's "If I Had Possession"; Sonny Boy Williamson's "Unseen Eye"; Melvin "Lil Son" Jackson's "Gambing Blues", and the traditional "Matchbox", popularized by Carl Perkins, but with a new arrangement by Henderson and McKendree.
Henderson is a great guitarist who has always honored the blues even when he recorded in other genres. His return to the Blues is a welcome event. This is a must have for every blues enthusiast.
Richard Ludmerer