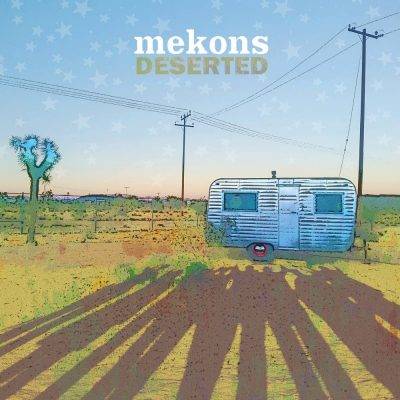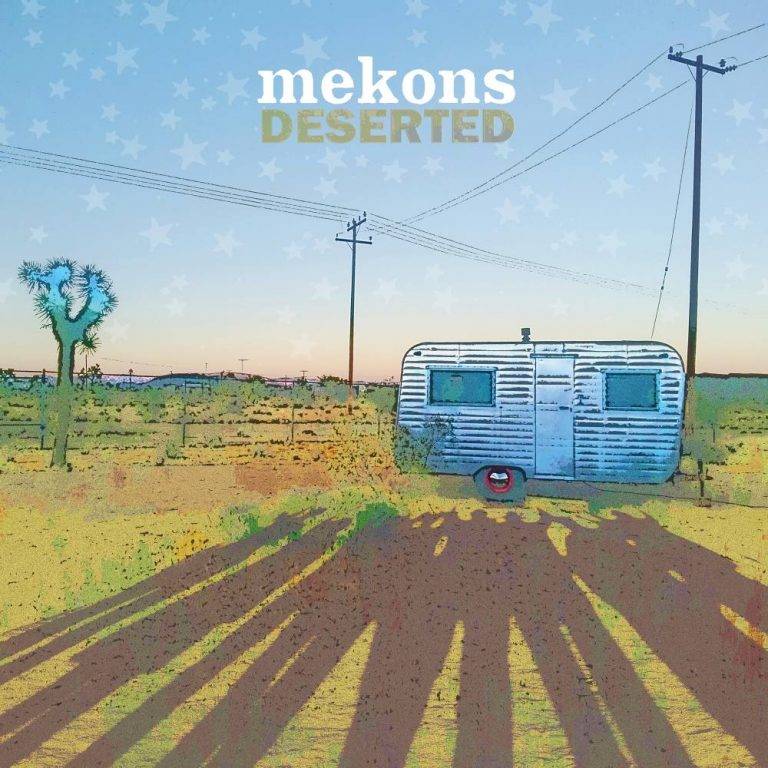 The Mekons
Deserted
Bloodshot
Believe it or not, the British collective, The Mekons, have been putting out their unique, genre-agnostic undefinable folk-punk (for lack of a better term) for over forty years now, having begun in 1977. Consider them a bizarre folk-rock aggregation equivalent to those in jazz like Sun Ra's various units or those of the AACM. Given that this may be the first time a reviewer covered this iconic band on these pages, there is perhaps too much detail herein but just take what you need.
Buoyed by a sold-out tour and a surge of interest in the States after the release of the documentary, Revenge of the Mekons, the band retreated to the fringes of Joshua Tree National Park to record their new album Deserted. In their inimitable way, they use the emptiness of the landscape, scorching heat, and chilly, rather magical evenings to summon forces, of magic, fear and superstition. The vibe ranges from pure madness to utter beauty.
Leader and founder Jon Langford said of the album's origin: "The idea was to go to a brand new studio our bassist the Baron had set up just outside Joshua Tree in Yucca Valley, CA and see what happened—we were in the middle of a hectic tour and had been attempting to write material first by email and then in the van… Most of what we wrote was abandoned after arriving at the Los Gatos compound. The desert is not unlike the ocean (just drier) and equally inspirational to old pirate punk rockers. The harshness of the environment, the bold and embattled plants and creatures that live there are metaphorical for us perhaps. Have you seen the desert after the rain? There are deserts everywhere. We took time to ponder the vastness and the weirdness of the desert. Going to the country to get your head together is a ripe old rock cliché. We went to the desert to have our brains scoured… We went from one desert to another. A more hopeful place where we arm ourselves with spikes and endure."
To say they embraced the environment is a vast understatement. They wallowed in it to the extent of developing specific characters. Have you ever seen these kinds of descriptions in band credits?
Vocals and guitar: Jon Langford a.k.a. Joshua T Landfrog (Chicago, Wales): founder member 1977, originally the drummer, Jon sings, plays guitar, performs with Three Johns, Waco Brothers, Four Lost Souls, Pine Valley Cosmonauts, Men of Gwent, Skull Orchard, and paints
Vocals: Sally Timms a.k.a. Sahara Timms (Chicago, Yorkshire): first sang with Mekons in 1982, enjoys a parallel solo career and has performed with The Dirty Three, Magnetic Fields, Marc Almond, Pete Shelley, Freakons. Moxie Tung, The Shehees, Skull Orchard
Violin: Susie Honeyman a.k.a. Florence of Arabia (Bethnal Green, Scotland): joined Mekons in 1983 as a violinist. Susie's other projects include Echo City, Little Sparta, Fire Engines, The Higsons, Rip Rig and Panic, Vivian Stanshall and an art gallery in London called the Grey Gallery
Vocals and keyboards: Rico Bell a.k.a. Yucca Bell (Aptos CA, Wales/Liverpool): accordionist and singer since 1985, an acclaimed oil painter who has made a series of solo albums with his band the Snake Handlers and worked with Martin Barre of Jethro Tull & the March Violets
Vocals and guitar: Tom Greenhalgh a.k.a. Tom E Kalaharihalgh (Devon, England): Founding member, vocalist, and guitarist since the Mekons formed in Leeds 1977, Tom is a multi-media artist and has also been a member of Edward II and the Red Hot Polkas and King Tommy's Velvet Runway
Bass, synths, and wailing: Dave Trumfio a.k.a. The Baron Waste (Chicago/LA USA): Began working with Mekons as a sound engineer in 1994 and has played guitar, keyboards & most recently bass in the band. Other projects include Pulsars & a new Dark Wave combo Viktor Fiction
Saz and cümbüş: Lu Edmonds a.k.a. Tak Lu Makan (Citizen of the World): a Mekon since 1985 first as a bassist but now on stringed instruments including the saz, cumbus and oud. Formerly a member of the Damned, 3 Musthaphas 3, Billy Bragg and the Blokes currently a member of PIL and Les Triaboliques
Drums and Vocals: Steve Goulding a.k.a. Steve Gobi (Brooklyn, UK): joined Mekons in 1985 on drum kit, other projects include Graham Parker & the Rumour, Gang of Four, Waco Brothers, The Cure, Elvis Costello, The Associates, David Bowie, Roxy Music, Nick Lowe, Wreckless Eric, Fond Farewells
There are nine distinctively different tunes with various band members in the lead, as they form what could be an apocalyptic soundtrack, not unlike something out of Blade Runner. Lanford's jagged guitar and angry pub singalong exhortations and Susie Honeyman's Middle Eastern-touched fiddle make the opener, "Lawrence of California," a rather typical chaotic statement. With the rhythms and atmospherics, using drums, bass and accordion as a foundation, the album is full of space; but" spacey" and "hazy" as apropos for a disoriented traveler. Sally Timms' dream-like voice turns "Into The Sun" into an oasis. On "In The Desert," Timms is a bastion against the cruelty that's building beyond. Tom Greenhalgh's scorched vocals add a sense of vulnerability and fear in "Harar 1883" and the gorgeous "How Many Stars?," the latter imbued by Florence of Arabia's violin, the chorus and acoustic strings. "Andromeda" and "After the Rain" offer some respite from the chaos too. Throughout, Lu Edmonds' obscure stringed instruments add to the psychedelic mist that enshrouds the proceedings.
Here are a few lyrical passages from a group who alternates between being pissed off, fascinated, disillusioned, or bent on rebellion, always inimitably theatrical:
– The chorus from "Into the Sun" – "I am the pipe that others play/ Sound and silence crumble away/ A vessel shattered on this day/Sound and silence crumble away'."
– A partial stanza from "The Priest Is Gone – "Sisters and brothers I regret to inform/ The veil is torn the priest has gone/ But the moon is hidden /The God red eye of a shit brown dog/Lying all wounded alone in the vastness/ The priest is gone, the priest is gone"
-The first stanza from "Andromeda" – "Diamond weapon boned dirty dry/Tongue teeth hook round eye/ Hunkered down in this barren hole/ Bristling exoskeleton antena /Come back later come back later/You should see us after the rain"
Marrying desert imagery with their patented humor, sarcasm, rebelliousness, and general bizarreness, the Mekons have made as good an album as any in their storied career. Now, that's saying something. Dig in and enjoy it but don't dare try to compare it to anything. That's nearly impossible.