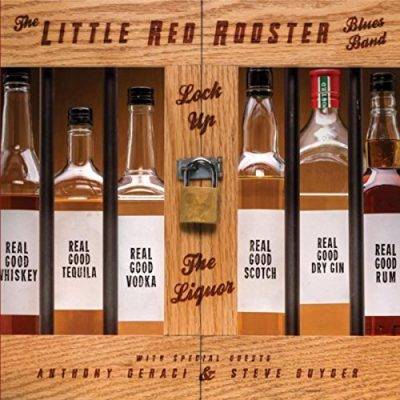 The Little Red Rooster Blues Band
Lock Up the Liquor
Self-released
The Little Red Rooster Blues Band has been perhaps the Philly area's most prized blues band for three decades now. This CD, which is their seventh, marks their 30th year as a band. It's essentially a miracle that band leader Kevin McCann was able to make this recording. In 2015, as the band was finishing up their sixth CD, Hijinx & Tomfoolery, MCann woke up with a tingling sensation in both hands. Soon he as diagnosed with Guillain-Barre Syndrome, a disorder in which the body's immune system attacks part of the peripheral nervous system. After a four month hospital stay and rehab, McCann stayed committed, first playing in a wheelchair, then a walker, then a cane. He played guitar with a makeshift sling on a mic stand but over the course of two years McCann fully recovered, chalking it up to his love for the blues that kept him alive.
So, not only is the band celebrating thirty years. They are buoyed by McCann's presence and bring plenty of fun to these sessions, where they also present two special guests – BMA nominated pianist Anthony Geraci from Sugar Ray & the Bluetones, and fellow Bucks County harp master, Steve Guyger, a Severn recording artist and formerly of the Jimmy Rogers Band. Guyer and Dave Holtzman appear together singing and blowing, on just one track – "4 O'Clock in the Morning" while Geraci can be heard on seven of the fifteen tracks. The core material though is primarily performed with the four members of Little Red Rooster, McCann on guitar and vocals, Dave Holtzman on harmonica and vocals (two tracks) and the rhythm section of bassist Jeff Michael and drummer Bob Holden.
Little Red Roster's style is an amalgam of traditional Chicago and West Coast blues, distilled through the original writing and playing of the entire band, with McCann and Holzman in the lead roles. Importantly, this is a traditional blues band that doesn't venture into blues rock or other forms. They keep it real from the opening, controlled raucous of "Pitchin' Woo" through their tribute to James Cotton in "Cotton Mouth" to the high energy of "Trouble in the Jungle" with Holzman on vocal to the closing title track. The lengthy "Nothin' Left Between Us" is a slow Chicago blues echoing those classic sounds of Muddy with Spann or Pinetop. The amusing "Thrift Shop Rubbers" is already garnering plenty of attention on radio and social media.
Congratulations to Little Red Rooster Blues Band for staying true to the art form for thirty years and surely for their perseverance too. Keep going guys! Our dancing shoes haven't worn out yet.
[amazon_link asins='B07DFS735N,B00X0U2TCE,B01HPC197I,B00X0U9W2Y,B00X13TSZQ,B00X92U2PY,B00X0U43EG,B00X0U3860,B01HPC1XQA' template='ProductCarousel' store='maasc-20′ marketplace='US' link_id='a246efd4-83bf-11e8-a5e2-b9d7a9e128fc']