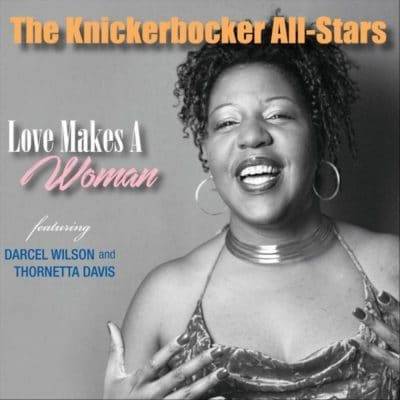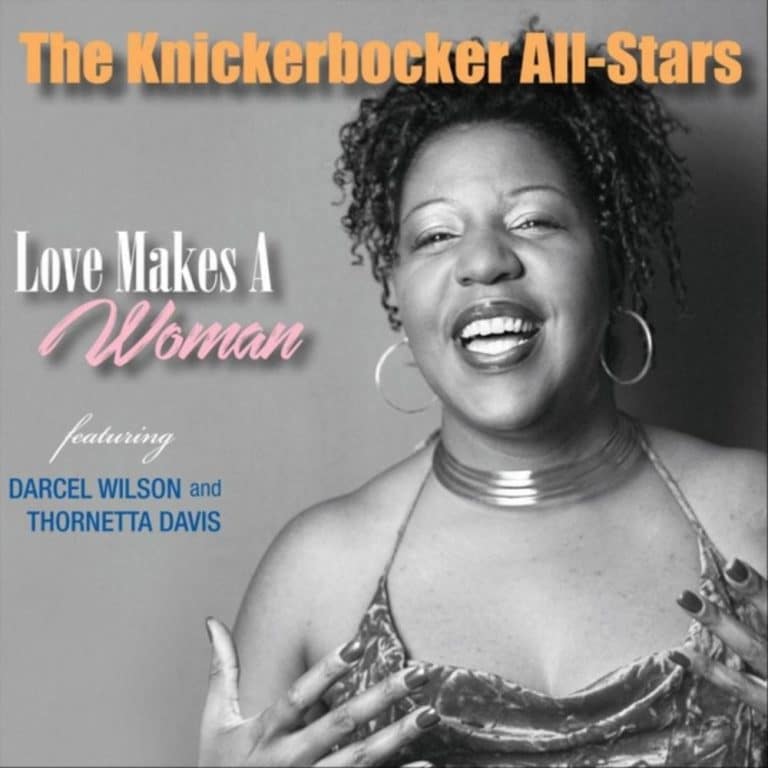 The Knickerbocker All-Stars
Love Makes A Woman fea. Darcel Wilson and Thornetta Davis
JP Cadillac Records
In 1967 Duke Robillard and Al Copley hosted weekly jams at The Knickerbocker Café in Westerly, Rhode Island. It was at the Knick that "Roomful of Blues" was born; it was here that the horn section evolved. Back in the day J.P. Sheerar was a regular at the club and in 2014 it was his idea to document the club's importance by selecting songs to be recorded by musicians who used to frequent the club. The result was 2014's Knickerbocker All-Stars "Open Mic at The Knick". The club was renamed the Knickerbocker Music Center, a non-profit organization, in partnership with the Rhode Island Philharmonic Orchestra and Music Center. Their mission is to preserve vintage Rhythm and Blues. Al Basile, a former "Roomful of Blues" member, was made musical director for the 2015 sequel which became The Knickerbocker All-Stars "Go Back Home to the Blues". Based on the success of the first two albums a third album was recorded and released in 2016, featuring Jimmie Vaughan and Duke Robillard; and called The Knickerbocker All-Stars – "Texas Rhody Blues".
This new album The Knickerbocker All-Stars "Love Makes A Woman" is the fourth in the series. The two featured vocalists are Darcel Wilson and Thornetta Davis. The album "was inspired by the great female soul and R&B singers who popularized the genre." Participating are musicians from Roomful of Blues and The Duke Robillard Band.
Since 1998 Wilson has been an instructor of Theory, Ensembles and Voice at Berklee College of Music in Boston. Wilson has done everything from commercials to television; and also worked, as Lead Session Singer and Vocal Arranger, on Broadway. She's worked with Branford Marsalis, Paul Simon, Walter Beasley and many others. She opens with "So Soon" written by Van McCoy and first recorded by Aretha Franklin in 1967. She follows with "Higher & Higher" a.k.a. "(Your Love Keeps Lifting Me) Higher and Higher" recorded by Jackie Wilson, also in 1967; this version should not be under estimated as Wilson and the horns are spectacular together.
Davis needs no introduction to blues enthusiasts. She has won 30 Detroit Music Awards, and in 2017 received Blues Music Award nominations for both "Best Emerging Artist Album" and "Song of The Year". Davis sings "Good Rockin' Daddy" first recorded by Etta James in 1955 when she was with Maxwell Davis and his Orchestra. The song was written by Joe Bihari, using the pseudonym of Joseph Josea, who went on to record B.B.King. Davis sings again on "Don't Cry Baby" also recorded by James on her 1961 album "The Second Time Around". Davis challenges herself by tackling Bonnie Raitt's 1989 song "Nick of Time" co-written with Don Was and it's another highlight on this album chocked full of surprises.
An interlude is provided by the inclusion of the instrumental "Go Girl!" written by Sil Austin and Mark "Kaz" Kazonoff which they recorded, in 1990 on Bullseye Records, as The Tri-Saxual Soul Champs.
Wilson sings four more fabulous songs. Little Willie Johns "Talk To Me, Talk To Me"; her sensual version of the title track first recorded by Barbara Acklin in 1968; Ruth Brown's 1953 single "Wild, Wild Young Men", and the closer Franklin's (Sweet, Sweet Baby) Since You've Been Gone" from 1968.
John Sheerar and Producer Jack Gauthier make collectibles. Their albums are among my favorites. This is another great recording.
Richard Ludmerer
[amazon_link asins='B07HKSCLKC,B016C9V90W,B00XK3YYFQ,B01K8LDL92,B011RQ3LY2,B01M0DNA13,B00KTKRN24,B01MDNH11E' template='ProductCarousel' store='maasc-20′ marketplace='US' link_id='bf90db36-cfb2-11e8-9a1e-63ad42400dc8′]