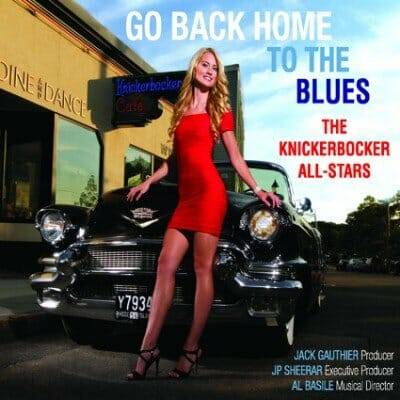 The Knickerbocker All-Stars
Go Back Home to The Blues
JP Cadillac Records
When "Roomful of Blues" was first born in 1967 original members Duke Robillard and Al Copley would host weekly jams at The Knickerbocker Café in Westerly, Rhode Island. It was at the Knick that their horn section evolved. Last year's recording "Open Mic at The Knick" documented that club's importance. Today the club is called the Knickerbocker Music Center as it is now a non-profit organization in partnership with the Rhode Island Philharmonic Orchestra and Music Center. Their mission is to preserve vintage Rhythm and Blues. Former "Roomful of Blues" member Al Basile, who has many recordings under his own name, has become the musical director on this sequel to last year's project.
The band heard here includes many "Roomful of Blues" alumni who now number fifty-two (if you include all past and current members). Among them are Rich Latille, alto and tenor sax; Doug James, baritone and tenor sax; Carl Querfurth, trombone; Basile, cornet; Al Copley, piano; and Brad Hallen, bass. Ex-vocalist Sugar Ray Norcia guests on three songs while Basile sings on one of his own tunes.
Other musicians include Mark Teixera from The Duke Robillard Band, drums; Monster Mike Welch from Sugar Ray and The Bluetones, guitar; "Sax" Gordon Beadle from The Love Dogs, tenor sax; and "Doc" Chanonhouse, trumpet. Added vocalists include Brian Templeton from The Radio Kings; and Willie J. Laws.
The amazing four piece horn section is heard throughout the recording but they are especially fine on the instrumentals "Hokin'" and "Blockbuster Boogie". Norcia sings on "36-22-36"; on "Brand New Fool" written by Basile; and on "Take It Like a Man". Templeton sings on three tracks including "Cadillac Baby"; while Laws sings on four songs including "He Was a Friend of Mine". The album is dedicated to the late pianist David Maxwell. Basile does a great job as musical director and sings on "Don't You Ever Get Tired of Being Right". As expected guitarist Monster Mike Welch is fabulous throughout the recording.
When I first listened to "Open Mic at The Knick" I was saddened that it had to end. Now thanks to producer Jack Gauthier and executive producer J.P. Sheerar that is not going to happen anytime soon. You couldn't ask for more from this sequel. This is highly recommended.
Richard Ludmerer