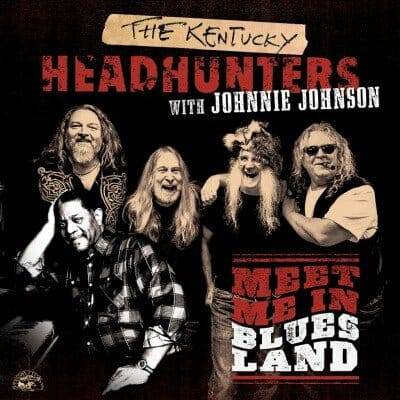 The Kentucky Headhunters with Johnnie Johnson
Meet Me in Blues Land
Alligator Records
In 1989 Southern blues-rockers The Kentucky Headhunters released their debut recording "Pickin' On Nashville". From that Grammy winning album were four consecutive Country music singles. The band followed up with 1991's "Electric Barnyard". Their last studio recording was 2011's "Dixie Lullabies". Overall they have seven studio recordings and twenty singles.
Johnnie Johnson formed The Sir John Trio in 1952. When he needed to replace his saxophonist he hired a young guitarist by the name of Chuck Berry. The Chess Brothers liked one of their songs and so the trio recorded "Wee Wee Hours" and "Maybellene" for them. Chess immediately signed Berry as a solo act and Johnson became part of Berry's band. Johnson toured with Berry until 1973 and later occasionally played with him. Johnson's first recording under his own name was 1991's "Johnnie B. Bad" produced by Terry Adams of NRBQ. The opening song "Tangueray" was produced by Keith Richards. Guesting on that album were Richards, Joey Spampinato, Steve Ferguson, Al Anderson, Bernie Worrell and Eric Clapton. In 1993 Johnson recorded "That'll Work" with The Kentucky Headhunters and Jimmy Hall.
In January of 2003 Johnson appeared on stage with The Rolling Stones. Afterwards he took a plane to Kentucky and joined his old friends The Kentucky Headhunters and together they recorded this session. Johnson passed away in 2005 and the tapes remained unissued until now.
The band on this recording includes Johnson, piano and vocals; Richard Young, rhythm guitar and vocals; Doug Phelps, rhythm guitar and vocals; Greg Martin, lead guitar and backing vocal; Fred Young, drums and backing vocal; and Anthony Kenny, bass and backing vocal.
Nine of the eleven tracks were co-written by The Headhunters and Johnson either before or during the session. The album opens with "Stumblin'" which addresses their drinking. Johnson quit imbibing in 1991. "She Got to Have It" is sung by Johnson.
"Walking with The Wolf"; "Shufflin' Back to Memphis"; the title track "Meet Me in Blues Land" and four others were also co-written. "Little Queenie" is from Chuck Berry but with an extended piano solo from Johnson. Martin's slide guitar work is notable. Vocalists Young and Phelps are invigorating.
Throughout the recording Johnson can be heard playing some of most rockin' blues piano ever. The saying that "the Blues had a baby and they called it rock n' roll" appropriately describes what you will hear on this historic recording.
Richard Ludmerer
https://youtu.be/UAaYcDQ0lt4

https://open.spotify.com/album/5FeZ6G0oxYVBrcLzPcHzmm