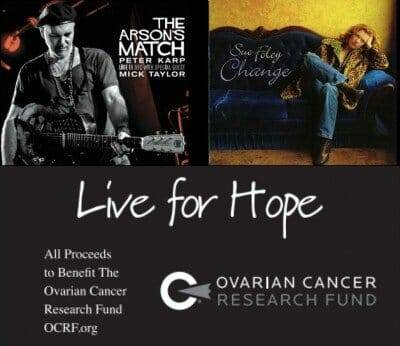 The Karp-Foley Band
Live For Hope
OCRF.org
The Karp-Foley band has released this two-cd live set to benefit the Ovarian Cancer Research Fund. This release coincides with Ovarian Cancer Awareness Month. All proceeds from the digital sale and download will benefit OCRF in loving memory of Peter Karp's late wife Mary Lou Karp who early on was misdiagnosed. This set is to honor her memory.
The first cd Karp's "The Arson's Match" features The Roadshow Band which included Karp, guitar, piano and vocals; guitarist Mick Taylor, formerly of The Rolling Stones; Jim Ehinger, keyboards; Daniel Pagdon, bass; Paul "Hernandez" Unsworth, drums; Dennis Gruenling, harmonica; and Dave Keyes, piano on "Your Prettiness". This exhilarating live set was first broadcast on Sirius Satellite Radio in 2004 from NYC's legendary venue "The Bottom Line". These songs were previously released on Karp's limited edition and long out of print solo recording "The Turning Point". Highlights include "Rolling On A Log" and "Treat Me Right". Two more of Karp's most requested songs; "Gee Chee, Gee Chee Wawa" and "Y'All Be Lookin" are also included.
The second cd Sue Foley's "Change" was also recorded in 2004. Live at Hugh's Room in Toronto and on Ruf Records. Foley starts by playing solo on an acoustic guitar. That evening Foley displayed a variety of styles. Her band joins in on the humorous "Doggie Treats"; on Memphis Minnie's "Me & My Chauffer"; on George Harrison's "Here Comes The Sun"; and on nine other re-arranged classics and originals. You'll believe Sue when she sings "Change is the only thing that ever stays the same".
This duo has gone on to thrill audiences with their brand of music. You can hear them again just as they first performed when they were still solo acts. At the same time your donation will help with cancer research and developing methods of early detection. Please visit: http://www.ocrf.org/downloads/live-for-hope-peter-karp-sue-foley
Richard Ludmerer