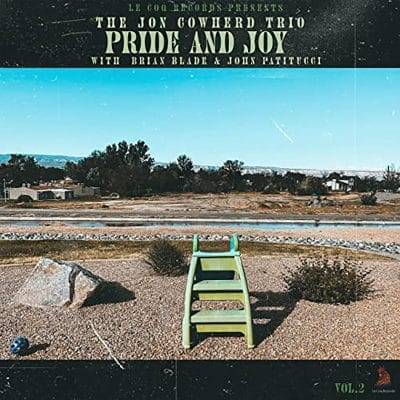 The Jon Cowherd Trio
Pride and Joy TRIO Vol. 2
Le Coq
As you've likely noticed by now, Le Coq Records, only in its second full year, is attracting some of the most prestigious names in jazz, like this top shelf trio of Jon Cowherd, John Patitucci, and Brian Blade. TRIO Vol. 2: Pride and Joy, from The Jon Cowherd Trio is the label's second piano trio offering, having presented TRIO with Bill Cunliffe, Patitucci, and Vinnie Colaiuta in 2021. Pride and Joy is trio in name but in terms of playing time, we hear as much quintet as we do a trio with in-demand saxophonist Chris Potter and label mainstay and former Weather Report percussionist Alex Acuna joining the core trio. Unlike the 2021 trio who played together for the first time, this core trio shares much familiarity. Cowherd, who matriculated at New Orleans' Loyola University with Blade, has known the drummer for over 25 years and is the co-founder and keyboardist in Brian Blade and the Fellowship band while Blade and Patitucci were the long-time rhythm tandem of the Wayne Shorter Quartet. Cowherd met Patitucci through Blade and the trio toured through Europe and the states around the turn of the millennium, joining with Bill Frisell to record Cowherd's 2013 Blue Note release, Mercy. Consider this a reunion.
Gleaning titles such as "Grand Mesa" and "The Colorado Experiment" as well as the western landscape depicted in the cover art, one quickly gets the sense that something apart from New York or New Orleans is afoot here. Cowherd, who has worked in New York for the past three decades has relocated to Grand Junction, CO. We are viewing his back yard and the toy ladder, emblematic of his two-and-half-year-old daughter from which the album takes its name. Aside from the projects already mentioned, Cowherd has made strong contributions to Nate Smith & Kinfolk's Vol. 2 See the Birds. Lately Cowherd has been a key cog in John Scofield's Yankee Go Home. You'll find Cowherd and to even greater extent Blade and Patitucci as sidemen on numerous projects. Each of them is highly regarded in the top tier of today's players.
Referencing those two tunes at the top, we hear the images of the wide-open spaces and desert imagery in Potter's searching tenor and Acuna's bubbling percussion to the majestic chording and fluid pianism of Cowherd, a similar tone taking hold on the latter tune, rendered just by the trio, with brilliant soloing from the leader and Patitucci. It also echoes strains of the late Chick Corea, a major influence for Cowherd. Patitucci, of course, was intimate with Corea, having played in Corea's Akoustic and Elektric bands. He composed "Chick Monk" with the other iconic pianist in mind. Both tunes have that angular, percussive quality that's a trademark of Monk.
Regarding Potter, who has also contributed to several Le Coq recordings already, the saxophonist seems to be ubiquitous, turning up countless recordings in recent years, way too many to delineate here. You'll hear his gorgeous lyrical side on "Little Scorpio," written for Cowherd's daughter, Sofiane. Potter returns to his engaging, spiraling tenor in the uplifting, sweeping title track, spurred on by the locked-in trio. Cowherd takes flight, Potter is by turns melodic and fierce; while Blade and Acuna provide their own uncurrent of conversation as this is a clear standout, the full quintet in full throttle.
Two others are trio rendered. "Honest Man" is Cowherd's elegiac ballad honoring his first teacher, the pianist Ellis Marsalis, who passed away in April 2020 due to Covid-19. Appreciate not only the leader's delicate piano but Patitucci's lyrical plucking and Blade's subtle brush work. "Plainfield" is also a dedication of sorts, pointing to the hometown in New Jersey of influential pianist Bill Evans, master of the pensive and contemplative. Cowherd doubles on Hammond B-3 to add to the tone while playing piano elegantly in the spirit of Evans while we again find Patitucci and Blade in restrained support with the bassist delivering a poignant solo as well. Cowherd goes out solo on "Quilt Town," a brief gospel-inflected piece penned for him by Blade, referencing Cowherd's hometown on Paducah, Kentucky, the self-proclaimed "Quilt Capital of the World." The production values are superb, yielding pristine sound throughout the entire set.
TRIO Vol. 2: Pride and Joy is an exceptional recording, befitting the talents and major styles that have influenced this core trio, from the pensive to the energetic, from swing to blues to sensitive ballads and gospel. Potter and Acuna add their own distinctive touches to take it up another notch.
Find our Podcasts on these outlets
Help Support Making a Scene
Your Support helps us pay for our server and allows us to continue to bring you the best coverage for the Indie Artists and the fans that Love them!
Make a one-time donation
Make a monthly donation
Make a yearly donation
Choose an amount
Or enter a custom amount
$
---
Your contribution is appreciated.
Your contribution is appreciated.
Your contribution is appreciated.
Donate
Donate monthly
Donate yearly
Subscribe to Our Newsletter