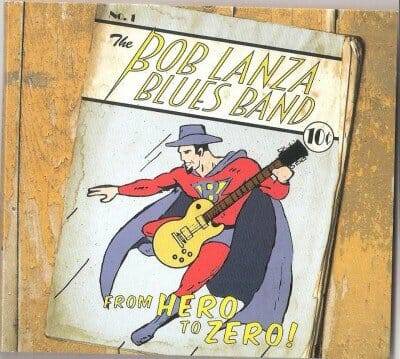 The Bob Lanza Blues Band
From Hero to Zero
Connor Ray Music
Bob Lanza has been a member of the Northern New Jersey blues scene for quite some time. Lanza apprenticed with Johnny Copeland and Floyd Phillips from whom he learned to serve the blues. In 2009 Lanza invested and self produced his well received first album "Things Ain't So Bad" which he recorded with a horn section. Lanza's stripped down follow up was 2013's "Til The Pain is Gone" and it also received accolades.
Now on the Connor Ray Music label Lanza gives us his best work to date. The band on this new recording includes Lanza, guitar and vocals; "Mild" Bill Lagreca, bass; Jake O'Handley, drums; Steve Krase, harmonica; Ed "Doc" Wall or Randy Wall, keyboards; and special guest Trudy Lynn on backing vocals.
Lanza opens the album with the first of six new originals written for this project. A fierce Chicago styled guitarist Lanza switches to slide on "For Loving You". His stinging guitar and robust vocal create a houserockin' sound that is sustained throughout the recording. Randy Wall plays piano and organ while Dan Skye provides the background vocal.
Harp ace Krase joins Lanza on "All Over Again" with "Doc" on piano; on "Love and Kindness" with Lanza's fabulous guitar solo and Lynn singing harmony; on the title track "From Hero to Zero"; on "It Ain't About Me"; and for a Piedmont styled acoustic duet on "Evil World".
Also included are three fabulous covers. The Percy Grainger, Robert Prince, Clarence Williams authored "Ain't Nobody's Business" popularized by Billie Holiday becomes serious business as Lanza rips another guitar solo. "I Wouldn't Treat A Dog" recorded by Bobby "Blue" Bland is a passionate vocal performance from Lanza; Dan Skye sits in on bass. "My Home is a Prison" made famous by Lonesome Sundown might be his most emotive vocal as Lanza digs deep. Krase's harp alternates between a big sound and a smaller reedy one.
Lanza proves himself over and over and although the album is self produced one can hear him being pushed on and encouraged by Krase and studio engineer Rock Romano. Lanza has certainly earned our attention.
Richard Ludmerer