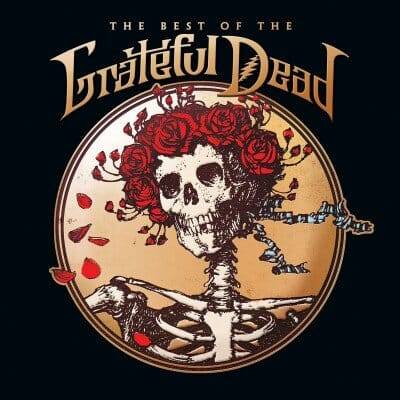 The Best of the Grateful Dead (2 CD's) www.Dead.net – www.Rhino.com
Issued as part of the Dead's fiftieth anniversary, their "long strange trips" will (supposedly) conclude over the Fourth of July weekend (2015) with three shows titled "Fare Thee Well: Celebrating Fifty Years of the Grateful Dead" at Chicago's Soldier Field. Previously there have only been a handful of "Best Of" Grateful Dead album compilations. However with a past and current arsenal of live releases, one can easily construe that their series of: Dick's Picks, Road Trips, Dave's Picks, plus other authorized live concert recordings; could easily be categorized as "Best Of" recordings too. Needless to say those looking for the Dead's epic jams should bypass this release and seek-out the live releases. Yet this fine summary of the Dead's history boasts thirty-two songs over two discs where the only double digit minute track is "Terrapin Station" (16:22) all others average at (approximately) five to seven minutes.
"The Best of the Grateful Dead" is chronologically sequenced, and (as anticipated) not one track is culled from any of their live releases. There's also a rare (can you believe) 1968 seven inch forty-five single version of "Dark Star," that was recorded during the making of "Anthem of the Sun," it's less than three minutes long. The flip "b" side "Born Cross Eyed," (is also included here,) is a different mix than the original from "Anthem of the Sun." To this day I don't know how the Dead convinced Warner Brothers to release this extremely odd and unusual single? Unsurprisingly the forty-five "Dark Star" unceremoniously sank to the bottom of the charts.
Nonetheless: "The Best of the Grateful Dead" is a solid time-capsule flashback view of a band that typically resisted being pigeonholed, and thoughtfully offers at least one song from each of their studio efforts.
More details about those 2015 Fourth of July "reunion" concerts. The surviving members of the Grateful Dead: Bob Weir, Phil Lesh, Mickey Hart and Bill Kreutzmann will be at the "Fare Thee Well" concerts with Phish's Trey Anastasio, Jeff Chimenti, and Bruce Hornsby. Over one-hundred and eighty thousand tickets sold-out swiftly, but there was controversy about who had first rights. Somehow Chicago Bears season ticket holders were able to purchase tickets prior to the general public and (more importantly) ahead of the adoring Dead-heads fans, go figure? The last time the surviving members (Lesh, Weir, Kreutzmann and Hart) performed together as the Grateful Dead (with Jerry Garcia) was July 9th, 1995 in Chicago at Soldiers Field. But these four Grateful Dead originators also jammed together in bands titled The Other Ones, and various portions of the "core four" also toured as Furthur, and as just The Dead. At the time of this writing the remaining members of this 2015 edition of the Grateful Dead have made it clear that they will not reprise these "Fare Thee Well" shows ever again. Time will tell…
I haven't endured any variation of the Grateful Dead since the mid-eighties, and mostly concur with Garcia's seventies band manager Richard Loren: "There can be no Grateful Dead reunion because the celebrated band cannot exist without its beloved front-man, Jerry Garcia. The Dead died twenty years ago this August when Jerry died." Loren is also the author of "High Notes: A Rock Memoir." Recently Mr. Loren gave a talk about the Grateful Dead to an audience with an age span of fifty years: "There were (equally divided) twenty-two year olds to seventy-two year olds in the crowd. That speaks to the power of their music." Amen: Richard Loren is Dead-on!
For 16 years Bob Putignano has been pivotal at WFDU with his Sounds of Blue radio show (Wed. & Fri. 9am-1pm) www.SoundsofBlue.com – 2015's most pledged to ($21,000+) radio program at http://wfdu.fm Previously a contributing editor at Blues Revue, Blueswax, and Goldmine magazines, currently the Music Editor for the Yonkers Tribune www.YonkersTribune.com – www.MakingAScene.org & www.wfdu.fm/Whats-Happening/Bob's Music Reviews/bobs music reviews/ Bob was the 2003 recipient of the "Keeping the Blues Alive" award (given by the Blues Foundation in Memphis) for his achievements in radio broadcasting. Putignano can be contacted at: bob8003@yahoo.com
——————————————————————————————————-
Bob Putignano: www.SoundsofBlue.com Wed. & Fri. 9am-1pm:
2015's most pledged to radio program at WFDU @ $21,000+ http://WFDU.fm Now celebrating 15 + years on the air in the NYC area Music Editor: www.yonkerstribune.com, www.makingascene.org & wfdu.fm/Whats-Happening/Bob's Music Reviews/bobs music reviews/