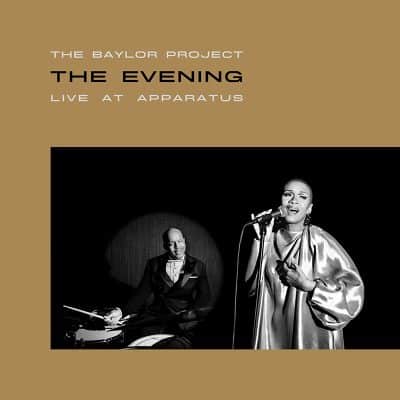 The Baylor Project
The Evening: Live at APPARATUS
Be a Light/Motown Gospel
Fresh off a stunning performance, clearly one of the highlights of the 2022 Newport Jazz Festival, we finally have a live recording from the 4-time Grammy-nominated The Baylor Project that gives listeners a sense of how easily the group builds instant rapport with their audience. This performance took place at APPARATUS, an interesting venue to say the least as it is a New York based interdisciplinary design studio that explores the relationship of lighting, furniture and objects in their environments. Gabriel Hendifar, the Artistic Director of APPARATUS, describes the plans for the launch of his latest collection, Act Four. Hendifar began the process by "imagining the room we would experience – the feeling, the people, the collective sense of joy and wonder that I want guests to experience in a world we have designed for them to enjoy. So, from the very beginning of this collection, we were referencing 1960's cultural touchpoints and listening to music of the era. We listened to a lot of jazz, and I always imagined that we would create a jazz club." Having seen a video of The Baylor Project, Hendifar quickly found them to be the perfect answer. The band has their own unique way of melding jazz, gospel, and R&B into an infectious mix.
From the liners – "The Baylor Project was the missing piece for the creation of the ephemeral jazz club, 'MUMS,' that would last for three nights only and never exist again, except for in the minds and imaginations of those who were fortunate to be invited for one the evenings – lucky for us, there is a recording." The Baylor Project, to be specific, is the NAACP Image Award-winning duo of Marcus and Jean Baylor with pianist/keyboardist Terry Brewer, saxophonist Keith Loftis, trumpeter Darren Barrett, trombonist Mark Williams and bassist Yasushi Nakamura.
"Call to Worship" by Marcus, begins the set the same way that they did at Newport Jazz. He immediately lets the audience know that they have a role to play. "When I say let the church say what, I want y'all to say Amen," he implores. "Let the church say what?" The crowd roars, "Amen!" The mood has been set. Pianist Terry Brewer and the impeccable vocalist Jean then begin a duet intro of "Our Love is Here to Stay" with Jean singing and scatting, reaching into impossibly high registers with her gorgeous alto before Loftus brings the soul on tenor and Barret follows suit on trumpet. Brewer then proceeds to play a throbbing, bluesy solo that sets the stage for Jean's entrance on the gospel hymn "Great is Thy Faithfulness." Bordering on hyperbole, this writer had mentioned to a friend unaware of Jean Baylor, that she can reach Aretha levels at times. That's in evidence early here. Saxophonist Keith Loftis, who is a major force throughout on both tenor and soprano, soars on the latter in his solo toward the end, curiously fading without any audience response heard in the recording.
Marcus chronicles the continuum of his experience from playing as a child at his father's church in St. Louis, to master classes with bassist Buster Williams in college in New York, to his playing with Kenny Garrett and the Yellowjackets in "Call of the Drum." Trumpeter Darren Barrett provides a lovely introduction and mid-piece solo while Brewer switches to Fender Rhodes for Jean's reading of "Tell Me a Story" – a lyrical reimagining of Herbie Hancock's "Tell Me a Bedtime Story" that they build to a glorious crescendo. Recalling an audience member shouting to Jean while at Newport "Take your time," she does just that on the standard "Tenderly." Loftis and Nakamura both elicit crowd response with stirring solos as Marcus shines with his beautiful brushwork. Jean continues to enthrall with her singing and scat work on "We Swing." She's so enraptured in the spirit that she forgets the words to part of the tune which may be due to fact that she's singing the parts that Jazzmeia Horn and Dianne Reeves sang on the group's album, Generations.
Church is in session with Jean leading the audience in a singalong on "Love Makes Me Sing." The mood turns heavier and more serious with "2020," done in the form of a Black spiritual, it's contemplative in the sense of the pandemic and racial oppression. Jean summons anger singing, "Oh Lord, oh Lord; We are living in a new dawn; I'm reminded every day; I think I've seen this before; It's just all too familiar… like peeling layers from an old wound." Marcus and Brewer raise the intensity to volcanic levels, while Barrett, Loftis and Jean aggressively and passionately wring out emotions. In "Happy to Be with You," Marcus immediately shifts the mood with the audience rhythmically clapping along. The front-line soars, Jean rejoins and after a pause the tune resumes, only to fade out. On the final selection "Only Believe," Jean returns to her deep gospel groove, singing, "There's a light in the valley, one that you cannot see; It is shining for you and for me; When the road gets too long, that heavy burden too strong; Just leave it there, and only believe." Some versions will have a bonus track, "Laugh and Move On," with three-part harmony from the horns.
After their stellar studio efforts, a live album was inevitable. The Baylor Project is one of the most engaging live bands performing today. Take this writer's word for it or my friend who compared them favorably to shows he had seen from Stevie Wonder and Prince. If nothing else, this live recording should encourage you to see them live when you can.
Help Support Making a Scene
Your Support helps us pay for our server and allows us to continue to bring you the best coverage for the Indie Artists and the fans that Love them!
Make a one-time donation
Make a monthly donation
Make a yearly donation
Choose an amount
Or enter a custom amount
$
---
Your contribution is appreciated.
Your contribution is appreciated.
Your contribution is appreciated.
Donate
Donate monthly
Donate yearly
Subscribe to Our Newsletter