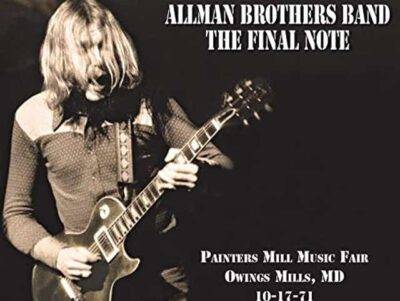 The Allman Brothers Band
The Final Note – Painters Mill Music Fair 10-17-71
Warner Theater, Erie, Pa 7-19-05 (2 CDs)
Allman Brothers Band Recordings/Peach Records
These two live recordings of the Allman Brothers Band, as the dates suggest, represent two incarnations of the lineup, neither ever heard on record until now. The Final Note is the final show of the iconic guitarist and co-founder of the band, Duane Allman, who was part of the original guitar tandem with Dickey Betts. Warner Theater, Erie, Pa 7-19-05 has the original members Gregg Allman, and the twin drummers Butch Trucks and Jaimoe along with bassist Oteil Burbridge, percussionist Marc Quinones, and the guitar tandem of Warren Haynes and Derek Trucks. Susan Tedeschi guests on the cover of Dylan's "Don't Think Twice. It's All Right." It too, is being issued for the first time.
The Final Note comes with a quite a story, similar but not quite as astonishing as the recently unearthed Palo Alto, where the iconic jazz pianist Thelonious Monk performed at a high school. The ABB album also involves a high school student, Sam Idas, a DJ who was comped for the show and had originally planned to interview Gregg Allman afterwards. With cassette tape in hand, intended solely for the interview, Idas recalls "I was given great seats, maybe 10 or 12 rows from the stage, left-center…This was a brand new cassette recorder with an internal microphone, and I had one 60-minute cassette tape. I was sitting there with the recorder in my lap, and I remember thinking, 'Why don't I try this out? I can record the concert!' It was a totally spontaneous decision. I'd been to many concerts, but this was the only time I had the thought – and the motivation – to record a show." Little did he know that Duane would unfortunately pass just 12 days later.
Fast forward to 2014 when one of his high school friends reached out on Facebook and asked Idas if he still had the tape, and after having basically ignored it for years, he miraculously found the tape. Idas digitized the tape, sent it to a few friends, and after being passed around to a few professional musicians who knew it was Duane's last show, made a connection with Richard Brent, who runs the Allman Brothers Band Museum at the Big House in Macon. Then Bert Holman, the ABB manager, got involved and approved the release. This is obviously shorthand for the elaborate story detailed in the liners by ABB historian John P. Lynskey.
As you would expect, the value of this recording is indeed its historical significance as the sound quality leaves plenty to be desired. There are bootleg recordings with superior sound. Yet, Duane's searing slide and Gregg's gritty vocals do come through prominently. What also comes across is the rawness and vigor of the playing from all members, the youthful fire we can attribute to twenty-somethings. Given the time limitation of the cassette, the recording has just nine tracks, the band's familiar set list that includes mostly tight versions with an extended "Whipping Post" as the finale.
The double live Erie PA album though is rightfully being billed in most press materials as "the best show you've never heard." Again, fans will savor the details in Lynskey's liners in the booklet. This show is four years into this incarnation of the band, and they were a well-oiled machine at this point. Erie was an unlikely stop on a grueling tour but it was the first of the five remaining shows, with the salivating promise of a long period of time off afterwards. The band had an off day prior to the show so they were well rested, and locked in, playing in a 2500 seat theater with wonderful acoustics. There was no opening act, so the band got to play two full sets, with covers brought in by Warren Haynes who was the musical director in effect at that time. Essentially this show was very much in the spirit of the heralded Beacon Theater shows. Bert Holman recalls, "…Haynes did a remarkable job putting setlists together – subject to approval by the other guys – and this show was a prime example. Kicking it off with "Mountain Jam" absolutely set the tone, and it was clear that the band was firing on all cylinders, right from the jump." The covers were "The Night They Drove Old Dixie Down," "Into the Mystic," "Don't Think Twice, It's All Right," and an extended version of "Good Morning Little School Girl." Gregg sings The Band tune while Haynes sings the Morrison and Sonny Boy Williamson. Susan Tedeschi, as mentioned takes the Dylan tune, familiar to her as she had previously recorded it early in her career.
While Disc 1, save "Mountain Jam" and an extended version Of "The High Cost of Low Living," has mostly tight song renditions, Disc 2 stretches out even more with an eleven minute killer version of "Dreams" and two 16-minute instrumentals, the drums-percussion "Jabuma" and the searing "Jessica." At this point Haynes and Trucks were as synergistic a guitar tandem as Duane and Betts, maybe just a tad more refined. That's not to say these are not combustible, fiery takes. Listen to "Mountain Jam, (Reprise)" or "Don't Keep Me Wondering" as just two examples lest you have any doubt. These performances are both brilliant and inspired, and the 34 year gap between these two recordings – technical advances and the sheer experience of the players combine for a superior listening experience.
As for when he realized that this performance was something special, Holman stated, "I was feeling it while they were playing; for me that night, there weren't a lot of demands or issues to focus on. Businesswise, there was no one I had to deal with because the show was a sellout. I remember going out into the lobby and checking out that scene, then walking around the theatre and listening to the show. I knew they were playing really good, and the audience was way into it; the drummers played exceptionally well that night, and I think part of it was that they could hear themselves really well onstage; the Warner has a really good sound to it. They weren't battling echoes and returns; the room was perfect, and it's just a cool little theater…Ultimately, I knew it had been a great night when they started coming off the stage and everyone was like, 'Man, that was a great show!' I remember Oteil and Derek particularly being pumped about it, Haynes was pleased, and Butch was just raving about how over-the-top the show was. They all told me that they needed a copy of the show, which says a lot right there."
So, Allman Brothers fans have more "new" music from a well that never seems to run dry – two historical documents from one of America's elite bands that continue to impress us with how timeless their music is.