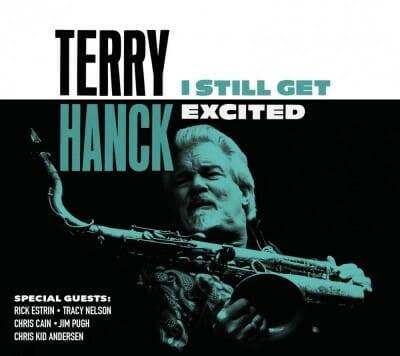 Terry Hanck
I Still Get Excited
Vizztone Label Group
Chicago born Terry Hanck, saxophonist, singer and songwriter, was influenced by the blues and jazz of the late fifties and sixties. Hanck moved to California in 1967. Hanck formed the Grayson Street Houserockers before appearing on Elvin Bishop's "Struttin' My Stuff" in 1975. Hanck joined the Elvin Bishop Band two years later and stayed with them until 1987 when he left to form his own band.
Hanck played at the 1998 Notodden Blues Festival. Three years later a young Norwegian, Chris "Kid" Andersen, moved to the United States and joined Hanck's band. Since then Andersen has co-produced every one of Hanck's albums including 2016's "From Roadhouse To Your House: LIVE!" also on Vizztone. Hanck has been nominated for nine Blues Music Awards winning three times for Best Instrumentalist – Horn.
Hanck currently divides his time between California and his new home in southeast Florida. The Terry Hanck Band includes Hanck, sax and vocals; and long-time members guitarist Johnny Cat Soubrand; bassist Tom Wager, and drummer Butch Cousins. The album is once again co-produced by Andersen. Special guests include Rick Estrin, harmonica; guitarist Chris Cain; keyboardist Jim Pugh, drummers June Core and Alex Petersen, and vocalist Tracy Nelson. The background singers are Lisa Leuschner Andersen and Whitney Shay.
Hanck's five originals are clearly influenced by the classic sounds of New Orleans, Chicago, California and Memphis. The title track which opens the album features the band with producer Andersen on bass and Pugh sitting in on piano. Hanck sings "in my mind I'm just a kid, lord, I still get excited". Soubrand's guitar solo is followed by a great sax solo from Hanck as the background vocalists complete the production.
"Smooth Tyrone" is about a guy, a smoothie who can't be trusted, with the lyric "better hold your baby tight, or you'll be alone tonight"; Pugh's plays piano in the background as Hanck wails again. "Here It Comes" is a rumba about an ex-lover with the line "here it comes that same ole feeling one more time"; Soubrand's Spanish styled guitar solo complimenting Hanck's vocal. "Come On Back" starts as a duel between Hanck's sax and Estrin's harmonica until Hanck sings "she come back to me, I'd do just most anything". "Rosita (No Wall Can Hold Our Love)" is a jazz styled instrumental co-written by Hanck with Andersen and Pugh; Pugh's B-3 setting the stage for Hanck's smoky solo.
"Early In The Morning" was first recorded by Louis Jordan And His Tympany Five in 1947. Hanck opens "Why People Like That?" with his signature sax squeal and honks, credited to R.C. Guidry a.k.a. Bobby Charles, it was recorded by Muddy Waters in 1975. "Howlin' For My Darlin'" was the B-side to Howlin' Wolf's "Spoonful" recorded in 1960. "Spring" is a fabulous duet with Tracy Nelson, first recorded by "Birdlegs and Pauline" in 1963. "Hold It Right There" from Eddie "Cleanhead" Vinson was first recorded in 1957. "Feel So Bad" written by Lightnin' Hopkins was recorded by Little Milton in 1966.
Hanck is a gold mine when it comes to classic R n' B and these six covers are fabulous versions of songs he learned throughout the years. Today Hanck ranks among the tenor sax greats, his playing and vocals being both traditional and contemporary. Each new recording from Hanck seems better than the last. Hanck is a musical treasure.
Richard Ludmerer