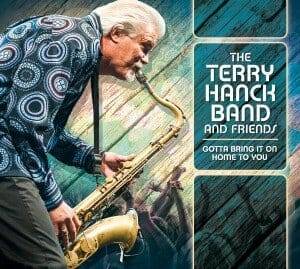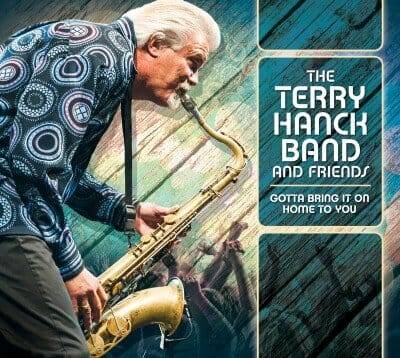 I developed my appreciation for the wailin',squakin' R n' B type of sax by listening to Roomful of Blues. Their horn section turned me on. My tastes were later re-enforced by Bob Porter's radio program "Portraits in Blue". Porter used to highlight this type of sax player. Among them were Greg Piccolo, Doug "Mr. Low" James, and "Sax" Gordon Beadle; all of them east-coast players.
It wasn't until years later that I heard the west coast's Terry Hanck. During the 80's and 90's Hanck was a member of The Elvin Bishop Band. Today, Hanck is a rarity, a Blues artist playing saxophone and fronting his own Blues band. In 2012, Hanck won a Blues Music Award for Best Instrumentalist-Horn.
Hanck opens this album with, "Right Now is The Hour", an Elvin Bishop tune he used to play on, and one which he still plays today. The sound reminds me of fifties rock especially with the call and response of the chorus. "Whole Lotta Lovin" is from B.B. King and it features Hanck's sax. Today Hanck's band consists of Johnny Soubrand, guitar; and the rhythm section of Tim Wagar, bass; and Butch Cousins, drums. Guest musicians include Bob Welsh, guitar (Elvin Bishop, John Nemeth), and Lorenzo Farrell, organ (The Nightcats).
The Tex-Mex sounding "Pins and Needles", features "Kid" Andersen on guitar, with Jimmy Pugh's organ, and the pairing of Hanck's tenor with the above mentioned Doug James, on baritone sax. Hanck also covers Tommy Ridgely's "Jam Up"; and "One Horse Town", credited to Don Robey of Duke Records and recorded by Bobby "Blue" Bland. Hanck heats it up on his instrumental composition "T's Groove".
Hanck's vocals on "Peace of Mind", "My Last Teardrop", and on Ronnie Milsap's 1981 hit "There's No Gettin' Over Me" make these three my favorite tracks. The title track "Gotta Bring It On Home to You" features a guitar solo by Debbie Davies and vocal duet. I recently saw them perform together and believe they compliment each other well enough to warrant more.
Terry Hanck is still making great music, the proof lies in the grooves.
Richard Ludmerer
You Can Purchase this CD here!