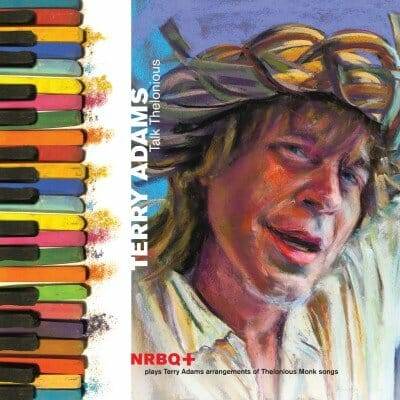 Terry Adams "Talk Thelonious" NRBQ+ Clang! Big Notes
Except for the final tune "Talk Thelonious" is a live performance recorded at the Flynn Space, Burlington, VT, on April 5, 2012. All twelve tunes are Thelonious Monk compositions – recently rearranged by Terry Adams.
The opening "Reflections" leads with Adams introducing the theme and playing a pipe organ than moving to piano and as a bass and drum trio that eventually leans more towards Monk's original rendition. "Hornin' In" introduces similarly to the original than shifts into a solid groove that you'd expect from any NRBQ era's band configuration. "In Walked Bud," is not as rocking as "Hornin' In," features the clean guitar lines by current NRBQ bandmate Scott Ligon who radiates and impresses as does the entire bands stroll of solid interplay and imagination. The horn section of Jim Hoke's alto and previous NRBQ soundman and occasional sax-player Klem Klimek adds color to the proceedings. New Englanders might recall (upbeat and good-guy) Klem and his band "Rizzz" from the seventies and eighties, details at www.KlemKlimek.com Adams' solo piano intros "Monk's Mood" as Hoke switches to harmonica and (believe it or not) pedal steel guitar that's obviously a flawed experiment. The quirky "That Old Man" sounds like a children's lullaby for grownups that are reluctant to age mentally, note the multi-instrumentalist Hoke who now plays ocarina, a wind instrument shaped like an elongated egg that has a mouthpiece and finger holes that sounds like an oddly tuned flute. Yes I had to look ocarina up yet somehow this instrument fits the playful mood of "That Old Man." The four piece unit gels on "Humph" with additional clean Ligon guitar playing that swings the band into action, especially Adams who's obviously having a blast with piano fills and a sharp piano solo as the band strips down to a trio sans guitar.
"Think of One" reunites Hoke's and Klimek's saxophones, Ligon turns-off his axe and contributes percussively. The multitalented Ligon switches to organ and duos with Adams' piano on "Ask Me Now" that gorgeously radiates when Adams steps out with his solo over Ligon's organ. Ligon's Kenny Burrell like bluesy guitar intros "Ugly Beauty" augmented by Adams' subtle piano work, the quartet fascinates with Pete Toigo's bass and Conrad Choucroun's drumming. The group strips-down to a piano-bass-drum trio – (plus one) with Hoke's alto on "Gallops' Gallop," the band be-bops and swings smartly when their leader channels Monk's pianistic styles reverently. Perhaps the most well-known Monk tune "Straight, No Chaser" concludes the live set and is given a country-bumpkin dressing especially with Hoke's pedal steel who meshes well with Ligon's guitar offerings, Adams' jazzes up the keys pulling the band to a swinging and rocking romp. The final selection "Ruby, My Dear" transfers the band to the studio adding four violins, two French horns, harp and additional percussion along with the quartet – and it's stunning, mostly arranged by Keith Spring who long ago was part of NRBQ's Whole Wheat Horns with Adams' brother Don.
I've been waiting for decades for Terry Adams to interpret and reimagine the music of Thelonious Monk, and now you and I have it. My only semi-negative comment about this nifty project is: why didn't they record a few more additional studio tracks? Nonetheless "Talk Thelonious" is a (patiently expected) chapter that adds luster to the underrated career of Terry Adams, who (to me) remains one of my favorite pianists on the planet.
For almost 17 years Bob Putignano has been pivotal at WFDU with his Sounds of Blue radio show (Wed. & Fri. 9am-1pm) www.SoundsofBlue.com – http://wfdu.fm Previously a contributing editor at Blues Revue, Blueswax, and Goldmine magazines, currently the Music Editor for the Yonkers Tribune www.YonkersTribune.com & www.MakingAScene.org Bob was also the 2003 recipient of the "Keeping the Blues Alive" award (given by the Blues Foundation in Memphis) for his achievements in radio broadcasting. Putignano can be contacted at: BobP@SoundsofBlue.com