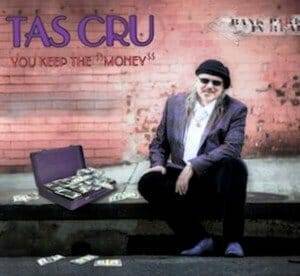 Tas Cru
You Keep The Money
Crustee Tees Records
Tas Cru now lives in Chaumont, N.Y. His first album "Biscuit" was released in 2006. Cru states his unusual stage name was bestowed on him "by a Quebecois fan". In 2008 he followed up with "gravi-Tas". His other recordings are 2009's "Grizzle n' Bone", 2010's "Jus' Desserts", and 2013's "Tired of Bluesmen Cryin". All of his songs are original compositions.
Tas Cru has one other album that is not commercially available. In 2009 he recorded "Even Bugs Sing the Blues", a children's album, also of original tunes. He donates copies of this album to schools, community groups, and blues societies. Tas Cru won a 2014 Keeping The Blues Alive Award in education.
This newest album "You Keep The Money" was released on New Years day. The title track which opens the album comes from a conversation he had with T-Model Ford, a Delta blues legend.
The band on this recording is called "The Moneymakers", they are: Tas Cru, vocals and guitars; Chip Lamson, piano; Guy Nirelli, organ; Bob Purdy, bass; Dick Earl Erickson, harmonica; and Dave Olson, drums. Bob Holz replaces Olson on three of the tracks. The background vocalists include Mary Ann Casale and Alice "Honeybea" Erickson.
Tas Cru has been called "the master of the triple entendre". He is a storyteller first and a darn good songwriter. His blues is more contemporary than some of the classic Chicago or Delta blues friends he may hang out with. He sings humorously about some of his failings on "Heart Trouble", "One Bad Habit" and "Bringing Out The Beast". Included also are two ballads "A Month of Somedays" with some fine organ playing by Nirelli; and "Holding on to You". "Le Belle Poutine" is a beautiful instrumental. "Count on Me" just might be my favorite song. The band and overall fine production complete this excellent album.
Tas Cru is one of the best new talents I've heard. When you need to contact Tas Cru, you need to go through his manager Rick Bates. Apparently however if there is any money to be had it goes to Rick Bates. You'll have to ask Tas about that.