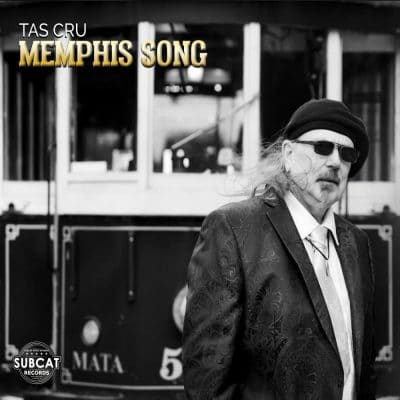 Tas Cru
Memphis Song
Subcat Records
In 2014 Tas Cru won a "Keeping The Blues Alive" Award in education. For the past twenty years he has been teaching about the blues and its history, and about how to play. He self funded the production of 2009's "Even Bugs Sing The Blues" and it's follow-up "Doggone Blues"; copies of which he donates to schools.
Tas' sixth album 2015's "You Keep The Money" was one of the hottest albums of that year. Last year's "Simmered and Stewed" resulted in him receiving a 2018 Blues Music Award nomination as Best Emerging Artist.
On the cover of his new album "Memphis Song" Tas is pictured standing in front of one of Memphis' historic trolleys. Tas states "no place means more to blues musicians, past and present. This album is dedicated to those musicians who found their muse in Memphis". The core band includes Tas, vocals and lead guitar; Bob Purdy, bass; Sonny Rock, Ron Keck or Andy Hearn, drums; Dick Earl Ericksen, harmonica; Andy Rudy, piano and Clavichord; and Guy Nirelli, organ.
Tas has written ten new songs and co-authored two more. Opening with the gospel fueled "Heal My Soul" Tas finds his inspiration. Featured are Ericksen on harp; Rudy on piano; and backing vocalists Donna Marie Floyd-Tritico and Patti Parks. Tas' vocal and guitar solo make this a great tune.
The title track, co-written with Mary Ann Casale, contains the lyric "I hear you calling you been too long gone. Come on home and sing your Memphis song." Tas' vocal is accompanied by special guests Victor Wainwright, piano; Pat Harrington, slide guitar; and Casale sitting in on acoustic guitar. On "People say I'm crazy…Fool For the Blues" Tas takes another great solo while Nirelli plays organ.
"Give a Little Up" is a funky tune with a ska-like beat that soon turns into a duet with Casale; once again Ericksen is on harp. Purdy's bass is upfront on "Daddy Didn't Give You Much" while Keck adds some cool percussion; Tas' guitar is evocative as he recites his narrative.
Rudy's piano opens "Have a Drink". "Everybody raise a glass and have a drink to the blues…the night is right while you're getting your blues on". This soon to be party classic will make you want to get up and dance. "I'm a One-Eyed Jack, I play the hand the good lord dealt me" is another danceable tune with Bill Barry sittin' in on organ.
"That Look" and "Queen of Hearts" are two passionate vocals punctuated by Tas' guitar lines. "Don't Lie to That Woman or you won't live long" is another fun bit o' funk. Some great guitar opens "Feel So Good when I play the blues for you".
"Can't Get Over Blues" is the six minute song that closes out this fine album. Tas' is always fun as he and his band really cooks. This well engineered recording is Tas Cru's best yet.
Richard Ludmerer
[amazon_link asins='B07C3FQB41,B01LYBX835,B00SA276IE,B01F5QXZEG,B00265S49Q,B01M998YJU,B07C3K427X,B009MO5GGI,B008GWHZD4′ template='ProductCarousel' store='maasc-20′ marketplace='US' link_id='d9d07d25-5bce-11e8-a0ca-13df282d3893′]