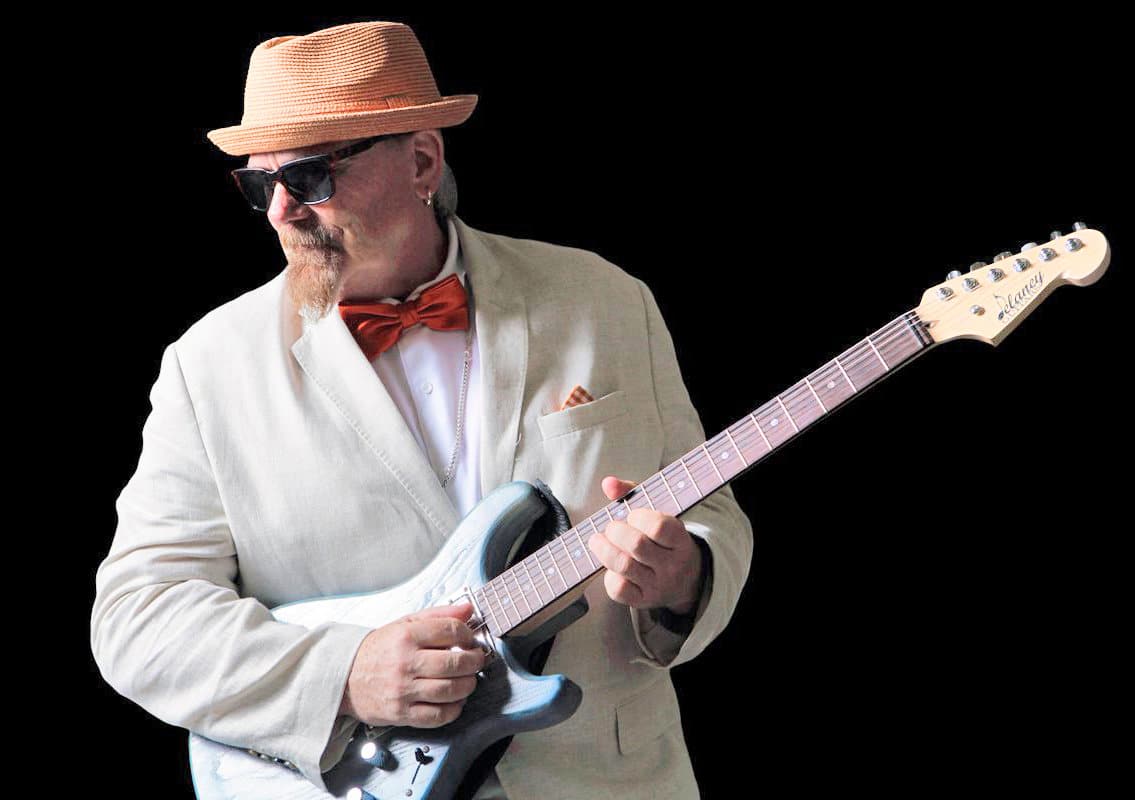 ---
---
---
---
---
---
Making a Scene Presents an Interview with Tas Cru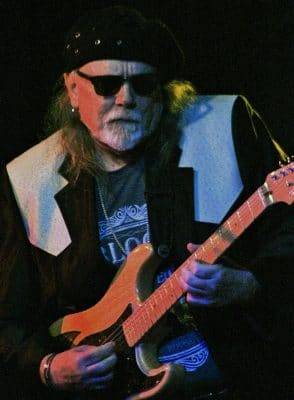 Tas Cru is truly a blues eclectic who refuses to let his music be bound to just one blues style. You get it all from Tas. He'll swing you with a traditional shuffle, swoon you with a sultry ballad, lull you into a trance with deep Hill-country blues and then rock your knobs off. If you want to be entertained, Tas is your guy. With a repertoire of over 60 original songs from multiple albums and dozens of crowd-pleasing classics, this seasoned road warrior will give folks what they want be it festival, concert or dance hall.
Tas has been called one of the most unique of bluesmen plying his trade today. His songs testify to his reputation as a bluesman who is accomplished in and comfortable with most every style of blues. As a writer Tas wants his songs to determine the style, rather than the other way around. And that's why fans love his stuff and critics sing his praises. With great vocal and guitar work alongside his trademark well-crafted lyrics, this music is an interesting and enjoyable listen. Performed live it is captivating – highly entertaining!
Tas Cru is currently is based out of upstate New York and performs in multiple formats ranging from solo acoustic to a 7 piece-backing band. He sings and plays a wide variety of guitars – at home on either electric, acoustic, resonator or cigar box and is known to sprinkle in a bit of harmonica from time to time. Tas is a Delaney Guitars (Austin TX) endorsed artist and is signed to Subcat Records, Syracuse NY.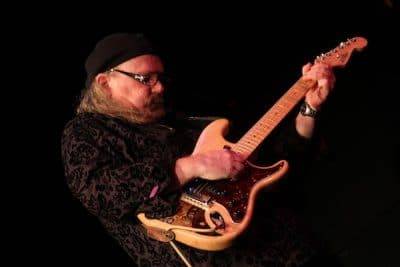 With three hot albums in the last five years – You Keep the Money, Simmered & Stewed and Memphis Song – Cru has readied another for 2020 – Drive On. In addition to his better-known albums is Tas' 2009 release, Even Bugs Sing the Blues, an album of original blues music for kids. In 2016 he recorded a blues album for dog lovers called Doggone Blues that is now being turned into a three-book series featuring the dog characters from these songs working together to try to form an all dog blues band. The first of this book series, Bad Dog Bubba is now available.
As a Blues Foundation, Keeping the Blues Alive award recipient (2014), besides performing, Cru brings his Blues Education programs and workshops to festivals, schools, and hospitals everywhere he travels. In 2019, Tas began his affiliation with United By Music North America; a program serving differently challenged young adult musicians. Thus far, Cru has traveled to the Pacific Northwest and Memphis, TN to mentor participants. Tas says, "Working with UBMNA has brought me back to why I began playing music in the first place – for the pure joy of doing so!"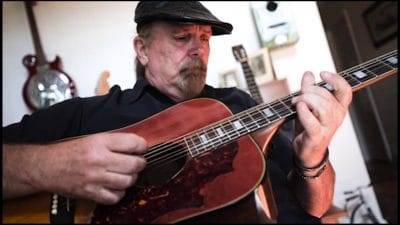 In his early bands, Tas was introduced to the great Sun Records sound and the country blues that later served as a counterpoint to the rock-blues he idolized as did so many young aspiring guitar players of his time. Cru grew up in a very musical and generally unquirky family (except for him). Unlike his talented brother and sisters, he did not pursue music in school. A brief attempt to play the trombone abruptly ended after being kicked by his 7th grade music teacher who's name actually was A (Alden) Sharpe! Tas says he deserved it. Instead Cru explored and developed his talent by taking up with a rougher crowd of older, self-taught musicians where he was introduced to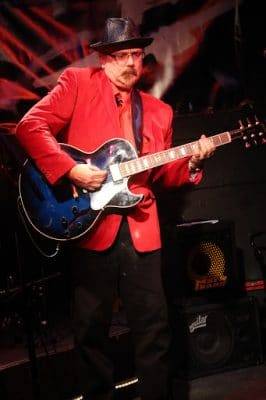 the songs of the Sun Records legends. His first foray into the blues came after leaving the US Navy when he was asked to join a band formed by a former shipmate named Delray Streeter, an Arkansas-raised bluesman with boundless bravado and attitude but rather limited singing and even lesser harmonica skills. This partnership, though short-lived, proved to be very influential as Streeter's repertoire tended toward the older, rough-hewn country blues. Cru's schooling in country blues later served him well and is heard in his original songs along with the Sun Records and, of course his rock-blues influences.
His brand new album, Drive On is the latest soundtrack of a man who, living the life he chooses just keeps drivin' on. Drive On is Tas Cru's second release on Subcat Records (Syracuse, NY). This new album takes Tas' music down a different path with newcomers Anthony Geraci, (keyboards), Anthony Terry (tenor sax) and Gabe Stillman (slide guitar) along for the ride to the studio. Mixing this fresh blood with Tas' tried and true studio companions proves the right turn to take at a crossroads that is Drive On.
2018's Memphis Song followed Tas' breakthrough effort; You Keep the Money (2014) and the Blues Music Award nominated Simmered and Stewed. Each of these albums received wide radio play and sat at or near the top of every blues radio chart. Memphis Song earned Tas his second (successive) Syracuse Area Music Award (SAMMY) for best blues album. On the strength of these albums Tas has since performed at several major blues festivals and notable venues. He looks forward to bringing music from these great albums and especially his new one, Drive On to these and many new stages.