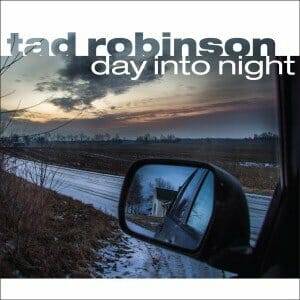 Tad Robinson
Day into Night
Severn Records
As a fan of Memphis styled music there are few singers that affect me the way Otis Redding and Al Green did way back in the late sixties and early seventies. One of them is Tad Robinson.
Robinson is a blue eyed soul singer. This is his sixth album overall. His last three Severn Record releases, 2004's "Did You Ever Wonder"; 2007's "A New Point of View", and 2010's "Back in Style", garnished him eight Blues Music Award nominations.
Each of those albums won a nomination as "Soul Blues Album of The Year". Robinson's albums are always a wonderful combination of vocal talent, song writing, song selection, and highly stylized production. Robinson has also been nominated "Soul Blues Male Artist of The Year" four times and he shares another BMA nomination with his bassist and songwriter Steve Gomes for "Rained All Night" off of the last album. Robinson's range makes him comparable to only a handful of our very best male blues and soul singers.
This new album may be Robinson's best yet. The band on this recording features Kevin Anker, keyboards; Steve Gomes, bass; Robb Stupka, drums; and The Fabulous Thunderbirds Johnny Moeller on guitar. Collectively they are known as The Severn Records House Band. Guest guitarists include Alex Schultz and Anson Funderburgh. The album is produced by Kevin Anker, David Earl, and Steve Gomes.
Kenny Rittenhouse, trumpet, now leads the horn section which also includes Lieal Whitaker, trumpet; Antonio Orta, tenor sax; and Bill Holmes, trombone. The horn arrangements are by Rittenhouse. Especially nice is the arrangement on the opening track "Soul Lover" written by Gomes. Gomes has also written "Mellow in Love".
The remainder of the songwriting is from Gomes, Robinson and Anker. They collaborate on both "Call Me" and on the fabulous "Lonely Talking" featuring Funderburgh on guitar. Other songs by them include "Blue Yesterday" and "Need Some Better".
On "Nightwatch" written by Robinson and Anker it's Schultz on guitar. "He's Moved On" is from Anker. The sole cover is Robinson's version of Bobby "Blue" Bland's "Lead Me On".
If you like original soul blues then you will love this album. Like all of Robinson's recordings the listener needs to spend some time with the songs to fully appreciate the depth within them. It will be time well spent.
Richard Ludmerer