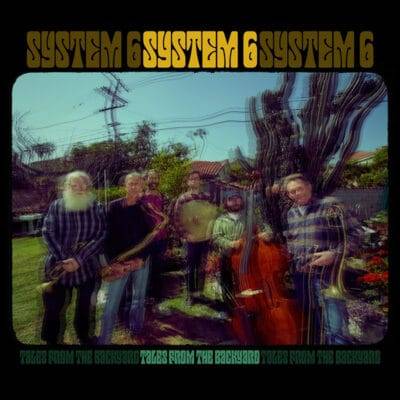 System 6
Tales from the Backyard
Skipper Productions
Bandleader and multi-reedist, the English-born and now L.A. based Benn Clatworthy, returns with does his long-standing sextet, the totally acoustic System 6, with Tales From the Backyard, a follow-up to last year's Bennie's Lament, which we covered on these pages. Initially this writer felt that this one features more ensemble playing and more contributions from the sextet than its predecessor where Clatworthy had most of the solos, but perhaps his Coltrane-like take on its title track swayed my memory. All considered, like that one, this is another democratic outing with plenty of room to stretch out for all musicians in the sextet which underwent some changes in the rhythm section.
Returning on the front line are long-time collaborators trumpeter Ron Stout and trombonist Joey Sellers with Bryan Velasco at piano. The rhythm section features the new addition of Drummer Tyler Kreutel as well as 19-year-old bass prodigy David Reynoso. Yayo Morales, who filled the drum seat on Bennie's Lament, co-produced, mixed and mastered this release – and added percussion on various tracks. After many rehearsals and work shedding in Clatworthy's backyard, this album was recorded in its entirety in one single-day session last March.
These eight compositions represent seven Clatworthy originals with one from Sellers. Clatworthy built his reputation as primarily a hard bopper, and while that is much present, many of these tunes are more improvisational and explorative, bordering on free jazz in places. The opener may remind listeners of the iconic Art Blakey and the Jazz Messengers sextets in the Blue Note sounding opener, "The Vegan" which is a solid ensemble piece with economical solos from Stout, Velasco, and Clatworthy on soprano.
"The Studio," penned upon the loss of Clatworthy's father several years ago takes its title from watching the sunrise in his father's studio in the early morning prior to his funeral. Yet the tone here is not funereal with especially bright soloing from Sellers and Velasco. The family theme continues in "Calypso Trisha" recalling memories of his native London and his neighbor Aunty Patty who lives next door to his family home with Clatworthy stating the theme on flute followed by stirring turns from Stout and Sellers and great percussion work from Morales. Clatworthy is gain on flute for the more reflective "This One Is For Celia," dedicated to Clatworthy's mother-in-law, Celia Enriquez.
Clatworthy's "Ballad For George Floyd" is appropriately somber with Velasco hitting some dark chords and the horns in mournful ensemble mode, interspersed with some strident tones to convey anger, which is that amplified in solos from Stout and Clatworthy on bass clarinet while Sellers holds down a murky bottom for a climax which is dissonant and disturbing. The frontline brightly rebounds on "The Mystic Feminine Charms of Caesura Chonchalita", an Afro-Cuban epic composed by trombonist Joey Sellers.
"WAFM," the longest at nine and a half minutes, begins with young bassist David Reynoso and moves into some spirited soloing from Stout, Clatworthy on tenor, Velasco, Sellers, and again Reynoso with pulsating work throughout from the drum-percussion tandem and Reynoso's pulsating bass for this standout track. The closer is Clatworthy's "The Skipper Meets the Pharoah", a composition initially commissioned by bassist Henry "The Skipper" Franklin who recorded it on his album Showers of Blessings. As you might guess, this one veers toward the more adventurous and aggressive as Clatworthy nods to the great Pharoah Sanders. Stout and Clatworthy take turns soaring over Velasco's rhythmic comping as if in a cutting session before Velasco himself takes off with energetic rapid runs. Drummer Kreutel takes his most animated solo on the albums before the band reprises the melody in their signature ensemble hard bopping way.
Tales From the Backyard is every bit the equal of last year's brilliant Bennie's Lament. In fact, it may have the edge for its more explorative tones.
Help Support Making a Scene
Your Support helps us pay for our server and allows us to continue to bring you the best coverage for the Indie Artists and the fans that Love them!
Make a one-time donation
Make a monthly donation
Make a yearly donation
Choose an amount
Or enter a custom amount
$
---
Your contribution is appreciated.
Your contribution is appreciated.
Your contribution is appreciated.
Donate
Donate monthly
Donate yearly
You can donate directly through Paypal!
Subscribe to Our Newsletter
Find our Podcasts on these outlets