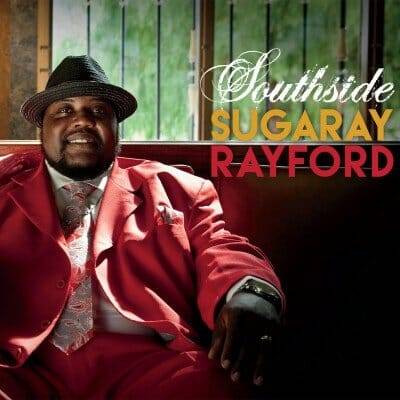 Sugaray Rayford
Southside
Nimoy Sue Records
The Sugaray Rayford Band was formed in 2010. Rayford released his first cd "Blind Alley" soon later. Upon hearing him in 2011 the late Randy Chortkoff, of Delta Groove Records, asked Rayford to join The Mannish Boys and he appears on their 2012 BMA winning "Double Dynamite" album where he shares lead vocals with the great Finis Tasby. Unfortunately Tasby suffered a stroke soon after the recordings release.
In 2013 Rayford released "Dangerous", the second album under his own name, also on the Delta Groove label. On it he was supported by members of The Mannish Boys and numerous other guest artists.
2014 saw Delta Groove release The Mannish Boys "Wrapped Up and Ready" on which Rayford established himself as the front man for the band and they received three 2015 Blues Music Award nominations. Individually Rayford also received BMA nominations as "Traditional Blues Male Artist" and as "B.B. King Entertainer of The Year".
This newest just released recording "Southside" features Rayford with his own band. The band consists of Rayford, vocals; Gino Matteo, guitar; Ralph Carter, his songwriting partner, bass; Lavell Jones, drums; Leo Dombeck, keyboards, and the horn section of Allan Walker, sax; and Gary Bivona, trumpet. Additional musicians include keyboardist John Thomas; George Pandis, trumpet; and Bill Bixler, baritone sax.
The band possesses an R n' B horn based sound different from that of the guitar driven Mannish Boys. All of the songs are written or co-written by Rayford and Carter. Highlights include "Southside of Town" and "Take It to The Bank" featuring Bob Corritore on harp.
At the recent 2015 Blues Music Awards in Memphis, Rayford a commanding vocalist and a big man, pranced around the stage. Rayford's hips swung to the left, then they swung to right and this hip shakin' man almost knocked some one off the stage. James Brown would have been proud.
Rayford is a young man and I expect he will thrill us for many years to come. If you haven't yet heard him you should check him out.
Richard Ludmerer