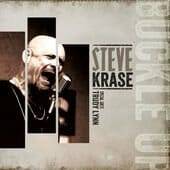 Steve Krase w/Special Guest Trudy Lynn
Buckle Up
Connor Ray Music
Steve Krase, originally from New York, now makes Houston his home. There he met and befriended Trudy Lynn and he recently appeared on her Royal Oaks Blues Café album. Buckle Up is Krase's second recording and follow up to "Some Day" released in 2013.
The band consists of Krase, vocals and harmonica; James Henry, guitars; Terry Dry, bass; Bobby Markoff, keyboards; and Michael Morris, drums. Special guest is Trudy Lynn. Other musicians contributing are Randy Wall, piano; producer, Rock Romano, bass; David Krase, guitar; Al Pagliuso, percussion; and background vocalist Cherae Lerie.
There is a lot of great music here. The album opens with the first of three songs written by Steve's brother David. "Jolene" is a rockabilly tune with a vocal by Steve that is meant to rattle the stage. Randy Wall first solo's on piano before Steve takes over with his fabulous harmonica. Lerie can be heard singing in the background. Also written by David is "Blueshound". Henry is on lead guitar. This time the background vocal is provided by Romano. David has also written the instrumental "Now" which closes out this fine album. On these David sits in on second guitar.
"I Like Them All" is a great song written and sung by Steve. Once again he takes over on harp. One of my favorites is "Daddy's Got a Cadillac (Mama Rides a Mule)" written by bassist Terry Dry. Apparently mama can't drive "that's why I drive a Cadillac and my baby drives a mule". Henry provides some solid slide guitar.
Special guest Trudy Lynn sings on Willie Dixon's "I Just Want to Make Love to You". This time it's Romano who sits in on bass. Lynn also wrote the title track "Buckle Up". Krase is featured on the vocal and he is joined by Lynn on the chorus.
Two great covers come from Texas born pianist Big Walter Price who passed away in 2012. "Misery" is a great performance from Krase; as is his storytelling "she's bad, she's tough" on "Big Bad Woman".
"Night Train (from Oakland)" was written by Houston native Jerry Lightfoot. Lightfoot performed as Jerry Lightfoot and The Essentials and died in 2006. This is a slow blues and Krase gives us almost eight minutes of great harp. He is joined by Henry on guitar.
If you're looking for someone new who can really turn it on, look no further than Steve Krase. This is a great album.
Richard Ludmerer