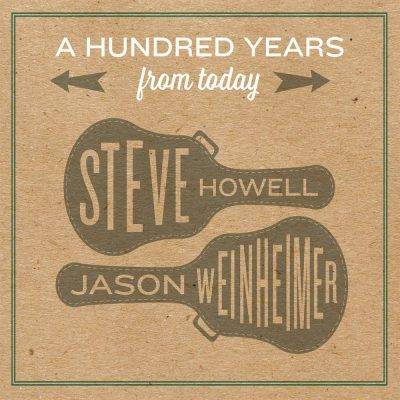 Steve Howell and Jason Weinheimer
A Hundred Years From Today
Out of The Past Music
Texas born Steve Howell now lives in the greater Shreveport, La. area. He has immersed himself in the rural blues of the south. Howell re-creates obscure traditional country blues with his finger picking style and warm voice. His third album was 2010's "Since I Last Saw You" and The Academy of Texas Music awarded Howell a "Historical Significance Award" to honor the effort to preserve the tunes recorded and recognize the significance of the emotions held within them. He recorded his last album 2015's "Friend Like Me" with his band The Mighty Men.
This new album features Howell in a duo with The Mighty Men's bassist Jason Weinheimer. The album is engineered, mixed and mastered by Weinheimer.
The album opens with "Lulu's Back in Town" written by Harry Warren & Al Dubin in 1935. The song was popularized by Fats Waller. It was also recorded by Thelonious Monk, Art Tatum and Leon Redbone.
"Kansas City Blues" was written by Jim Jackson in 1927 and recorded by him on Vocation Records. It was also recorded by Michael Bloomfield.
"Goin Back To Florida" is a Lightnin' Hopkins tune recorded in 1959. It was also recorded by John Hammond in 1963.
"Louis Collins", a murder ballad, and "Got The Blues Can't Be Satisfied" were both written and recorded by Mississippi John Hurt in 1928.
"A Hundred Years From Today" written by Joe Young and Ned Washungton was recorded by the jazz singer/trombonist Jack Teagarden in 1933. It was also recorded by Frank Sinatra and Dean Martin and featured in a Broadway Show "Blackbirds of 1934".
"Basin Street Blues" was first recorded by Louis Armstrong. "After You've Gone" was a hit for Marion Harris in 1918. "Rocking Chair" was written and recorded by Hoagy Carmichael in 1929.
These songs are American gems that our father's listened to and hummed. Howell reminds us of our heritage in a most delightful way.
Richard Ludmerer
[amazon_link asins='B07473RJPG,B00FCMF50Q,B01775LQC6,B0030U1TSY,B001CSRKY8′ template='ProductCarousel' store='maasc-20′ marketplace='US' link_id='3d4df7f0-90f0-11e7-babc-d994e68a28ef']