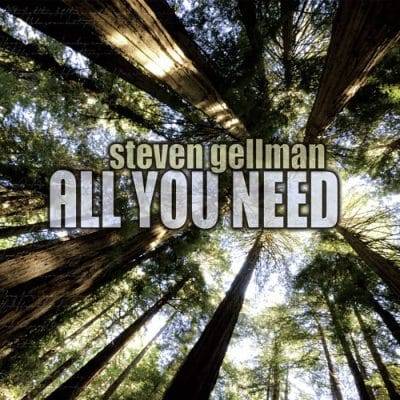 Steve Gellman
All You Need
Self-released
Multiple award-winning Maryland singer-songwriter Steve Gellman has released his thirteenth album, All You Need. The album carries the ambience of an authentic folk singer backed by an impressive casts including members of The Seldom Scene, guitarist Nina Gerber, Chao Tian (a special star on this album), Grammy winners Cathy Fink and Marcy Marxer, and internationally recognized Scottish fiddler Bonnie Rideout. At times the album may veer a bit too sensitive or sappy, but it is unquestionably warm, full of realistic and relatable concepts, and top shelf instrumental backing. Gellman is an avowed married gay man with three dogs, totally confident and secure about his self-being but reminding us in his direct manner "We don't love differently/I'm just like you, you're just like me" in his song that bears the title of the last verse. Similar opinions course through the album.
The album commences with "Wintering," an ode to life's simple pleasures that we often take for granted. And yes, he's right about "Butter slathered on a slice of rye bread. This is a life well lived!" He sings of transition and getting to a better place mentally and spiritually, the sonics imbued by Chao Tian on the Chinese dulcimer. In "Little Victories" he urges us to celebrate small wins before tackling greater challenges with Seth Kibel's flute and Tian's dulcimer again highlighting the accompaniment. In "Twenty-nine" he ruminates on youth, some of which was misspent and therefore blocked from memory. Fink's banjo and Marxer's mandolin punctuate this one. "Song for a Friend" is all about empathy while the puzzling title of "Hygge Night" acquaints us with the Danish term cozy. Again, at least this writer and probably many of you value just staying in, listening to music wile enjoying one's favorite beverage.
Gellaman's favorite songwriter is the late Kate Wolf for whom he wrote "California," appropriately with Wolf's longtime guitarist, Nina Gerber, accompanying. "By the Lake" explores the tradeoffs for seeking a rural versus a more hectic, urban way of life, ultimately with the lake on the winning side. "The Bear Prince" extols the virtues of his special needs dog. One of the best lines is how we describe our time with a pet dog, time that passes way too quickly – "I toss a ball out in the grass, you play hard and then you crash/You're growing up too fast and all I want is for these days to last."  The allure of The Berkshires and New England is at the heart of bluegrass infused "The Briarcliff Hotel." The mood turns somewhat melancholy for the only non-original, and ode to gay music pioneers Romanovsky (the writer) and Phillips, with lyrics expressing the comfort of being gay but begin careful at the same time of public displays of affection. The title track closes, urging us all to be persistent and take stock in that, another angle on the theme of empathy which runs through these songs. We're left with "Don't give up, no don't give up/ All you need is a little luck."
The qualities that Gellman espouses are worthy ones. His songs somehow, though a bit cliché, stay clear of the didactic and preachy. His quiet wisdom ultimately comforts.
Help Support Making a Scene
Your Support helps us pay for our server and allows us to continue to bring you the best coverage for the Indie Artists and the fans that Love them!
Make a one-time donation
Make a monthly donation
Make a yearly donation
Choose an amount
Or enter a custom amount
$
---
Your contribution is appreciated.
Your contribution is appreciated.
Your contribution is appreciated.
Donate
Donate monthly
Donate yearly
You can donate directly through Paypal!
Subscribe to Our Newsletter