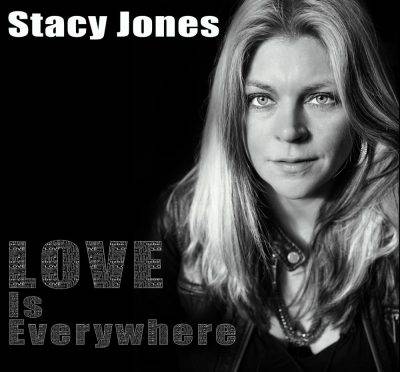 Stacy Jones
Love is Everywhere
Independent
Stacy Jones is from the Seattle area. She started playing piano when she was four years old and began singing with her father's band shortly thereafter. She also learned guitar and harmonica. Influenced by both Howlin' Wolf and Lucinda Williams she formed her first band, Stacy Jones and the Wolf Tones, and recorded her all original debut 2007's "Red Dirt Road". The Washington Blues Society took notice and nominated her for Best New Band and Best Harp Player.
In 2009 Jones released "Blues in The House Live at The Triple Door" and won the Best New Band Award from The Washington Blues Society. Her first studio album was The Stacy Jones Band "Long Time Comin'" and this time she won the W.B.S. award for Best Female Vocalist. Jones followed up with 2011's "No Need To Spell It Out" and 2012's "Live & Untapped". She won the W.B.S. award for Best Female Vocalist again in 2014.
Jones' 2015 album "Whiskey, Wine & Water" included the song "Can't Do Nothin' Right" and she won the award for the Best Blues Song from the International Music & Entertainment Association. The W.B.S. also named her "Songwriter of The Year". Jones has shared the stage with Elvin Bishop, Charlie Musselwhite, Lee Oskar and many others.
"Love Is Everywhere" is Jones' fourth studio recording and seventh album overall. Her band has remained unchanged since 2010; Jones, guitars, harmonica, keyboards and vocals; Jeff Menteer, lead guitar; Rick J. Bowen, drums; and her dad Tommy Jones, bass. All of the songs save one were written by Jones. The album is recorded and mixed by Floyd Reitsma at Studio Litho, Seattle.
"Mojo Potion #61 & 49" is a rockin' blues about a woman who went to the crossroads "and she never was the same again". Is the song autobiographical? Bowen pounds out an intense second line beat while Sean Denton joins Menteer on lead guitar. Angelo Ortiz plays washboard. Jones plays rhythm guitar and harmonica.
"Wait For Heaven" is a heartbreaking song about her friend Greg Gibson who died in a house fire. Menteer takes an impressive guitar solo.
"Can't Find Love…unless your looking in the mirror girl" is a song about self-empowerment. "I Fell in Love"; "Can't You Be Mine" featuring Mike Marinig on saxophone and flute; and "Gotta Get Over You" are about falling in and out of love. Marinig plays again on the jump blues "One Stop Light"; Jones is on harmonica while Menteer rips another solo. "Tough Girls Never Cry" is influenced by Rosanne Cash.
The title track, "Love Is Everywhere", was written after the Pulse nightclub shooting in Orlando and before the Seattle Pride celebration.
Special guest Lee Oskar plays harp on the fantastic "Stomp Jump Boogie" written by Menteer and the band. "I'll Be On My Way" closes out this fine album.
Jones' is a blues rockin' triple threat as instrumentalist, songwriter, and vocalist. She is just making her mark. Guaranteed she'll be around for a long while.
Richard Ludmerer
[amazon_link asins='B073RRNFC2,B073RR7XGD' template='ProductCarousel' store='maasc-20′ marketplace='US' link_id='cfbb6e34-7c7e-11e7-924b-2bf0b6a300ad']