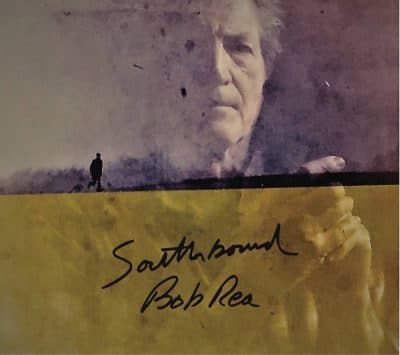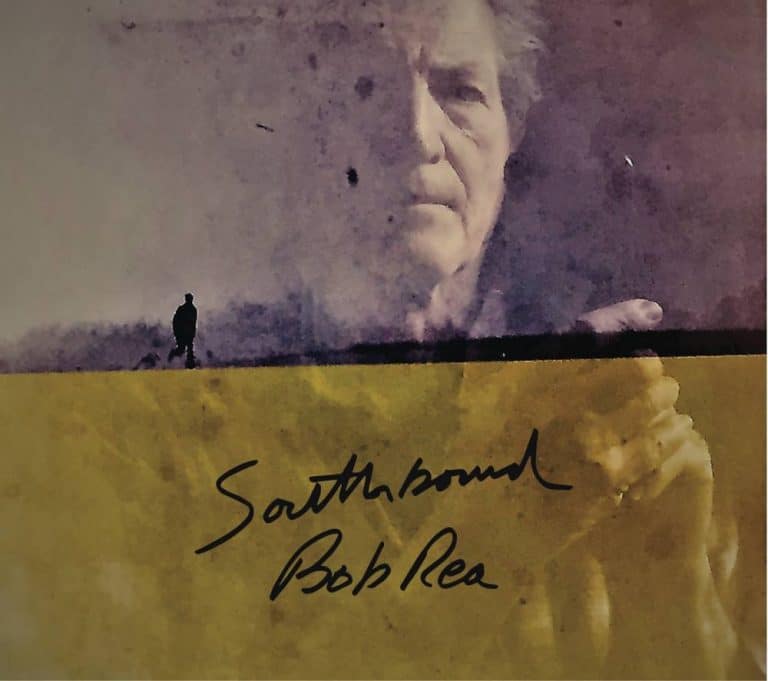 Nashville based Songwriter-Singer Bob Rea is as Americana as cherry pie. He is the Country without the "Bro". He might not fully rock but he sure does roll. He's the folk singer with a driving beat and a bit of soul. Through it all is a web of finely crafted lyrics in the vein of Rodney Crowell, Guy Clark, Steve Earle and Johnny Cash. Pop this album into the player on a cross-Country trip and you'll find yourself SOUTHBOUND.
With the title song, co-written with Erik Stucky, Immediately you'll know you've found a shining example of everything good in music. It's pure country as intended. It's a song that has the driving beat of a rail car heading South. Beautiful pedal steel is not the sad machine some people make it out as. This song will have you up on the dance floor. "She will leave them brokenhearted with a Mona Lisa smile, and every fire she started will be burning for a while". Does it get better than this? Yes! This is only the first song and they are all this good.
Lest you think it is a commentary on this past years events, "The Law", written twenty years ago proving great lyrics timeless and that if we lose focus, history has a tendency to repeat itself. The driving beat of "The Law" will have you hitting the replay button, but resist. It perfectly sets up the emotions within to place yourself into the vividly simple and wonderfully crafted "Vietnam" co-written with Kate Graves. It's the simple and straight arrow that pierces deep.
"We turned eighteen in sixty eight.
He drew twenty three, mine came up late.
The TV screen commercial break
It was hard to see through that much hate
I was scared. He was brave
He went I stayed" – Vietnam
"Soldier On" with its rambling banjo, and "Say Goodnight", "Screw Cincinnati" (you have to empathize at the realization that she might be knocked up making it difficult to leave the schmuck), "…screw him and that horse he rode in on", "Whisper Of An Angel", "Wanna Do", "Skipping Stones", "A Place In Your Heart", these are leaving songs and wanna leave songs and already gone songs. Common in theme and poetic in lyric. "That blood delta sun was turning down. Burning like the pages in a Faulkner novel", "Rain pours down on Memphis and the cemetery trees are swaying in the mist", "You had me wandering in circles till I stumbled on the truth", "Wondering and wandering ain't that far apart, just two ways of letting go", "Pain ain't nothing but the bloodshot proof, teardrops raining down the heartbreak truth", "I'm all over falling apart, I don't need a place in your heart". These are all themes common to everybody who has a pulse. These songs will ear worm their way in providing the scenery of life at one point or another.
"The Highway Never Cries" a co-write with Erik Stucky, says take your cares to the road. "Take those rocks out of your pockets and see if you can't fly, Hang your hat out on the highway cause the highway never cries". This is a juke-joint-jumble with rollicking piano, slide guitar and a back beat that rolls you up to your feet.
"Lonely Is Lonely", co-written with Patty Castillo, lyrically we've all been so lonely or misunderstood that "the only thing harder than leaving is to stay" The pedal steel earns its "sad machine" moniker and is perfectly executed for driving the lyrics home.
Knowing full well that song lyrics are not poetry, damn if "Fish Can't Fly" co-written with Crystal Chandler, doesn't fall close. The accordion and simple rock-n-roll riff completes the poetic imagery.
"I'd tell you God would have never gave birds feathers
then took away their sky.
You can't catch the whistle on a southbound train.
Can't hold a pistol on a hurricane.
Rain falls down and wind blows away.
Fish can't fly and I can't stay."
SOUTHBOUND, the April 2018 release, features thirteen masterful songs written or co-written by Bob Rea and produced by Steve Daly for Shiny Dime Records. If you write with the caliber that Rae does your bound to gather some of Americana's best and brightest. SOUTHBOUND gathered them up on one album. Joining Bob Rae (who plays acoustic and Rickenbacker guitar) in the studio are, Mike Daly on steel guitar and dobro, Steve Daly on acoustic and electric guitar/baritone guitar/banjo, Michael Webb on keyboards/accordion, Herschel Van Dyke on drums/percussion, Aaron Shaffer-Hails drums on "Whisper Of An Angel" and "Vietnam", Dan Eubanks on bass, Jeremy Holt on mandolin, Lois Mahalia lends background vocals, Laura Mae Socks lends backing vocals for "Screw Cincinnati"
Songwriter singer, it's not a slip of the tongue. Bob Rea is the real deal. If you too believe the lyric is what matters. That words are some of the most powerful weapons and the source of infinite healing. This is the album for you. Get you one or three.
[amazon_link asins='B07BVGGX59,B07C7JH9L7,B000AA9CEK,B0042QV8DQ,B07C7MXY96,B003QYZQ92,B013TYYA40,B07CGH6MKB' template='ProductCarousel' store='maasc-20′ marketplace='US' link_id='e41bec84-672b-11e8-be66-1bbe82059c21′]