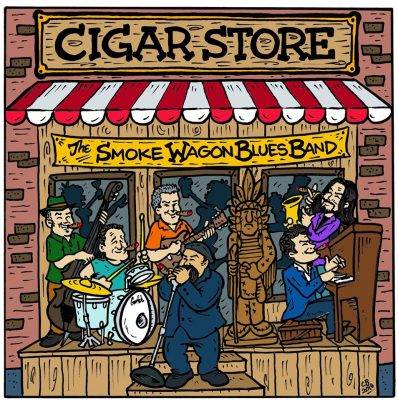 Smoke Wagon Blues Band
Cigar Store
Independent
The Smoke Wagon Blues Band, from Hamilton Ontario, was formed in 1996. Their now out of print debut was 1997's "Smoke Wagon Blues Number 36". They followed up in 2001 with the live "Low Down Righteous Blues". "The One and Only" was issued in 2005 and resulted in the band receiving their first Maple Blues Award nomination as Best New Blues Band.
Bandleader Corey Lueck released "It Ain't Easy" under his own name in 2012 although still accompanied by the band. Their last album was 2013's "Live in Hamilton". The band competed in the 2016 International Blues Challenge representing The Grand River Blues Society.
The bands newest album "Cigar Store" was released on October 1st, 2016. Currently The Smoke Wagon Blues Band consists of Lueck, harp and vocals; Mike Stubbs, guitar and backing vocal; Nick Succi, organ and piano; Gordon Aeichele, sax; Jason Colavecchia, bass and backing vocals; and Tibor Lucas, drums and backing vocals.
"I Tried", "Hoodoo Woman", "Directly Under Her Thumb", "Set Me Free", and "I Can't Change" are from the songwriting team of Lueck and Stubbs. In fact Lueck and Stubbs have had a part in writing eleven of the thirteen tracks. "Walking Cane" was co-written with bassist Colavecchia. On it sax man Aeichele sounds like a whole horn section. "Must've Read It Wrong", sung by Lueck, is a fabulous tune and my favorite on the album. It was co-written with the drummer Lukacs. The title track "Cigar Store" was written by the band.
There are also two well executed covers. "Mean Old Lady" was written by Richard Alfred Newell a.k.a. King Biscuit Boy. Newell was born in Hamilton and the first Canadian blues artist to chart on the Billboard Hot 100. He played with Muddy Waters, Joe Cocker, Janis Joplin, Allen Toussaint and The Meters. He recorded seven albums five of them on the Stony Plain imprint. "You've Been A Good Old Wagon" was written by Ben Harney in 1896. He is considered the father of ragtime. It was recorded in 1925 by Bessie Smith.
Lueck's whiskey soaked vocals and harmonica playing is fabulous throughout the recording. But that's not all, this is a well balanced band and a thoroughly enjoyable recording.
Richard Ludmerer