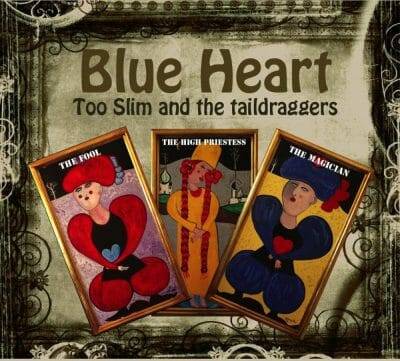 My husband and I had the privilege of seeing Too Slim and The Taildraggers Saturday night and he gave me a copy of his CD, Blue Heart, which actually came out before last year's Anthology, but which I somehow missed. If you did, too, you need to get this CD in your collection right way!
Too Slim refers to the music he and his band make as "Straight whiskey blues with a Southern rock chaser" and that is an appropriate description for this CD. It contains songs about sin and redemption like "Wash My Hands" and "When Whiskey Was My Friend" that are surely not in the Gospel tradition but which have a powerful impact with the fiery guitar, bass and drums and fervent vocals from Slim (whose real name is Tim Langford) The mystical theme also fuels "Angels Are Back," which features some marvelous slide guitar and a somewhat creepy lyric.
Other songs, like "Minutes Feel Like Hours," "Blue Heart," and "Good to See You Smile Again" deal sensitively with relationships. "Minutes Feel Like Hours" is a slow, hypnotic blues while "Blue Heart" is about a woman with a "blue heart made of glass" "Good to See Your Smile Again" has the great Jimmy Hall of Wet Willie as guest vocalist and features scintillating guitar from Too Slim. Hall also provided tasty harmonica on "Blue Heart."
The rest of the songs rock and soar and glide, with magic guitar. mesmerizing vocals, and a fantastic supporting lineup that includes former Delbert McClinton guitarist Rob McNelly, bassist Tommy MacDonald, Tom Hambridge on drums and Reese Wynans of Stevie Ray Vaughn's Band on Hammond B3.
This was the 19th studio release in Too Slim's career and it shows a seasoned entertainer with a kicking band and some very talented associates making muic at the top of his game.