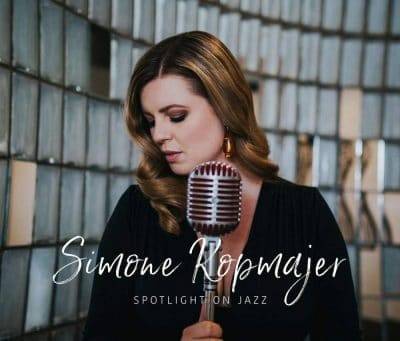 Simone Kopmajer
Spotlight on Jazz
Lucky Mojo Records
It's convenient to call this a throwback album but somehow Simone Kopmajer would seem to be just fine with that description. It's uncanny how her originals, five of them, fit seamlessly with swing standards from the '40s and '50s, such fare as Louis Armstrong's "Struttin' With Some Barbecue," Benny Goodman's "Stompin' At the Savoy" and Duke Ellington's "Mood Indigo."  Not only is Kopmajer a gifted vocalist and composer, but her pairing with tenor saxophonist/clarinetist Terry Myers (current leader of The Tommy Dorsey Orchestra) is especially effective.  Myers is a key member of the backing quintet that includes Martin Spitzer (guitar), Paul Urbanek (piano), Karl Sayer (bass) and Reinhardt Winkler (drums).
Kopmajer hails from Austria and this is her 13th album as a leader. She sings in flawless English with a warm, emotive and inviting voice.  It's as if she was born to swing. Her opener "Spotlights" has Terry Myers taking his cues from Lester Young and the banter between Myers and Kopmajer seems to inspire each to reach deeper. The Louis Armstrong tune rarely has a vocal version as this one does and stands out also due to Myers' clarinet solo.  Their cover of Jimmy McHugh/Dorothy Fields "Exactly Like You" also has Myers on clarinet with Kopmajer showing her scat chops.
Other highlights include a jazz waltz interpretation of "Pennies from Heaven" and a slower paced "Poinciana," made famous by Ahmad Jamal. Her prime original is "Dig That Riff" which she reprises in a remixed version for the bonus track. Another clear standout is a tune that she and Myers collaborated in writing, the ballad "A Gift From Buddy." The relaxed version of "Stompin' at the Savoy" is another nice surprise.  These tunes clearly focus on Kopmajer's beautiful phrasing and the warm, supportive tenor soloing of Myers. Listen closely though for plenty of concise solos from pianist Urbanek, who also co-wrote three tunes, and guitarist Spitzer.
Simone Kopmajer began singing at age eight, took classical piano lessons, and dabbled in saxophone too. At age twelve she began singing in her father's band and four years later matriculated to the University of Music and Dramatic Arts in Graz where she earned a Masters Degree. She then studied with Sheila Jordan  Mark Murphy, Michele Hendricks, Jay Clayton and the New York Voices. She performs regularly in Europe and the U.S. and is also quite popular in Japan and Southeast Asia. She has been recording albums since 2003 at a regular pace.
This is straight ahead jazz, with a few unique interpretations of familiar tunes. Kopmajer adds to her stellar vocal reputation by composing some worthy material too.
[amazon_link asins='B07G2CJPHC,B06VW7FSTR,B00I8A0JDC,B01K52WC44,B004N3BER8,B00M63FOVO,B018SPPBBQ,B000QQW010,B015RWO59C' template='ProductCarousel' store='maasc-20′ marketplace='US' link_id='db4af6b1-f1f3-11e8-9af0-a9ca862455ff']