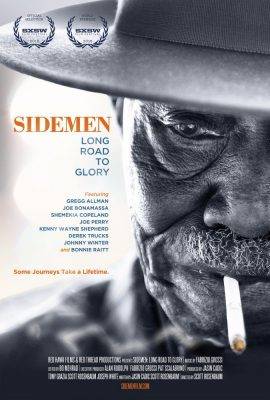 Sidemen: Long Road To Glory
A documentary film on "Pinetop" Perkins, Willie "Big Eyes" Smith & Hubert Sumlin
Directed by Scott Rosenbaum/Produced by Tony Grazia & Jasin Cadic
Red Hawk Films/Red Thread Productions
Website: https://www.sidemenfilm.com/
"Pinetop" Perkins enters stage left, sits at the piano and begins to play. The scene changes to a concert event as the announcer introduces the three primary members of "The Perfect Age of Rock 'n' Roll Blues Band"; Hubert Sumlin, Pinetop, and Willie "Big Eyes" Smith. We now hear Muddy Waters singing "I'm A Man" as our second generation blues artist extol the accomplishments of our three illustrious sidemen. We hear from Bonnie Raitt, Kenny Wayne Shepherd, and Bernard Purdie. Shepherd explains that these three guys inspired the younger musicians…"the blues had a baby and they called it Rock 'n' Roll". We now see archival footage of Waters. We hear testimony from Derek Trucks, Susan Tedeschi, the late Gregg Allman, Joe Perry, Joe Bonamassa and Eric Clapton.
Narrator Mark Maron tells us about the people of the rural south who migrated to the northern cities seeking a better life. Two musicians who decided to take their chances by moving to Chicago were Muddy Waters and Howlin Wolf. Maron tells us the life story of each of our three sidemen who were soon to follow; Sumlin who played guitar for Wolf; and Perkins and drummer Smith who played for Waters. The footage of Sumlin playing behind Wolf is priceless. Each suffered when their mentor and father figure passed and each of them triumphed and crawled back to be on top of the music world.
Paul Oscher's commentary is insightful as is Johnny Winter's. Elvin Bishop and Sugar Blue are seen sittin' in. The footage of Jimi Hendrix is fabulous. The film is totally comprehensive as it even includes the Stones playing Wolf's Little Red Rooster. Perkins and Smith are seen accepting their 2011 Grammy award for their 2010 collaborative album "Connected At The Hip". In March, a month later, the 97 year old Perkins passed away. During the eight months following both Smith and Sumlin also died.
After the deaths of Perkins, Smith and Sumlin it was decided that the focus of the film would change. It became a story of perseverance and hope. Instead of the film ending it continues to show us how young players have become inspired by these three sidemen.
This highly recommended film is the best blues documentary you will ever see.
Richard Ludmerer