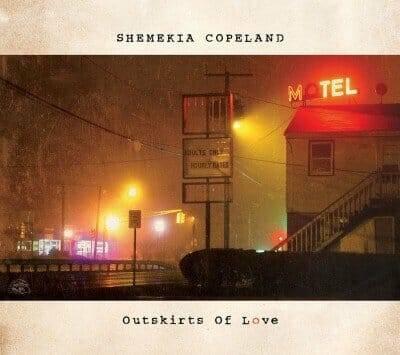 Shemekia Copeland
Outskirts of Love
Alligator Records
Shemekia Copeland was born in Harlem in 1979. She is the daughter of blues icon Johnny "Clyde" Copeland. She inherited the urge to perform and released her first studio recording on the Alligator Records label in 1998 when she was only nineteen. "Turn The Heat Up" resulted in Shemekia receiving four Blues Music Award nominations.
Shemekia's follow up recording "Wicked" resulted in her winning Blues Music Awards for "Song of The Year"; "Album of The Year" and Contemporary Blues Female Artist of The Year". Shemekia released two more albums on Alligator; 2002's "Talking to Strangers" produced by Dr. John which resulted in three more awards; and 2005's "The Soul Truth" produced by Steve Cropper. In total Shemekia is an eight time BMA award winner.
Shemekia still wanted to improve and at the same time broaden her fan base. She ultimately left Alligator Records and signed with Telarc a more jazz oriented label. In 2009 Copeland released "Never Going Back". Then in early 2012 Shemekia appeared "In Performance at The White House" where she entertained our first family. Later in 2012 Shemekia released "33 1/3" also on Telarc. Incidentally that was her age at the time of the release and over the years we have been witness to her growth as an artist.
This is Shemekia's seventh studio recording and her return to Alligator Records where impresario Bruce Iglauer has given her and her team full artistic control. Once again the album is produced by Oliver Wood and godfather executive John Hahn. The band includes Shemekia, vocals; Wood, guitars and backing vocals; Lex Price, bass; and Jano Rix, keyboards, drums and percussion.
Shemekia's voice possesses more nuance; more expression, and more drama than ever before. In 2011 she was named the reigning "Queen of The Blues" and she is living up to that title.
The album opens with the first of three from the songwriting team of Hahn and Wood. The title track "Outskirts of Love"; "Crossbone Beach" featuring Robert Randolph on steel guitar; and my favorite "Drivin' Out of Nashville" with the line "country music ain't nothing but the blues with a twang"; I love the Roy Nichol's type guitar licks included here (Nichol was Merle Haggard's guitarist). "Cardboard Box" was written by Hahn with Ian Siegel and it's a vocal duet with Shemekia and Alvin Youngblood Hart.
On each of her recordings Shemekia includes one of her father's songs. This time it's "Devil's Hand". Other covers include Jesse Winchester's "Isn't It So"; John Fogarty's "Long As I Can See The Light"; Albert King's "Wrapped Up in Love Again"; ZZ Top's "Jesus Just Left Chicago" featuring Billy Gibbons; Jesse Mae Hemphill's "Lord Help The Poor and Needy"; "I Feel A Sin Coming On" originally sung by Solomon Burke; and "The Battle is Over" recorded by Sonny Terry and Brownie McGhee.
This may arguably be Shemekia's best. "Outskirts of Love" is a mature recording that will result in additional kudo's for Ms. Copeland.
Richard Ludmerer