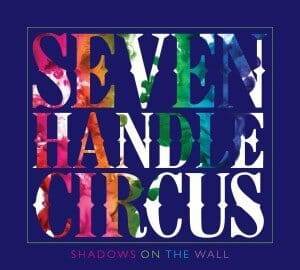 Seven Handle Circus is extraordinary, literally. There is nothing about them that is ordinary. They use traditional acoustic bluegrass instruments but their sound is more pop than bluegrass, with amazing harmonies that recall R.E.M. more than Bill Monroe.
Add to that the literary influences and references the Atlanta group, who met while attending Georgia Tech, cite in their press release and you know you have something really unusual. For instance, the jaunty opener of upcoming new album Shadows on the Wall, "Shadows," the release says, was inspired by the writings of Plato, while the folk rock "And We Danced" evokes Catcher in the Rye. The ballad "Prelude" was inspired by Percy Bysshe Shelley's "Ode to the West Wind." Of course, you don't have to know a word of Plato, Salinger or Shelley to appreciate these wonderful songs.
The overall sound is contemplative, dealing with the uncertainties of finding one's identity and learning to survive in the world, and full of beautiful voices and haunting instrumental solos. The soaring harmonies in "Open Book" remind one forcibly of Simon and Garfunkel, as does "Aubade." "Heartbroke" combines bluegrass, folk and pop in a remarkable way, with fantastic banjo picking by Colin Vinson. The ballad "Not So Lucky," like every other song on the CD, benefits greatly from his picking, Steve Bledsoe's mandolin and Richard Burroughs' fiddle. Drummer Jeff Harrison and bassist Troy Harris know how to provide the necessary backdrop for the other instruments and blended vocals without intruding and overwhelming them. Shawn Spencer's lead vocals provide a strong center for the harmonies."Break My Fall" is a deeply emotional, elegiac ballad that is definitely what you would expect, again just like everything else on the CD.
All of these songs illustrate the mood and the quality of the musicianship on this CD, which really works together as a whole and maintains its theme of growing up and adjusting to life's changes all the way through. This release will be a treat to every person who loves Americana, folk rock, or just good, thoughtful, music in general. Hopefully, Seven Handle Circus is going to find a major audience far beyond Atlanta and the South, and even far beyond the United States. They deserve to be heard everywhere. If there were a rating higher than 5 stars, I would give it to this one.
Shadows on the Wall will be released October 20 and is available now to pre-order on the Seven Handle Circus website.
Article first published at http://blogcritics.org/music-review-seven-handle-circus-shadows-on-the-wall/