---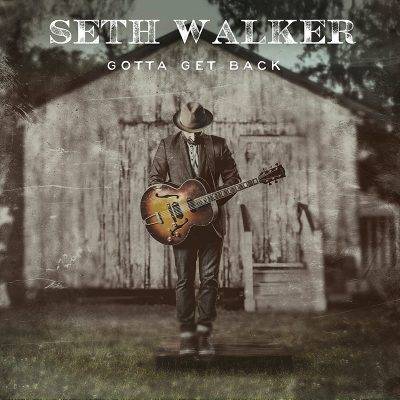 Seth Walker
Gotta Get Back
The Royal Potato Family
Seth Walker hails from the Greenville, North Carolina area but has also lived in Austin, Nashville, New York and New Orleans. At the age of forty-one he has absorbed the blues, country music and Americana of his generation and has already made his mark. His first album "When It Rains It Pours" was released in 1998.
Walker's self titled fifth album was released in 2006 to critical acclaim. He is an accomplished songwriter who delivers his songs with his own distinct soulful croon. Walker's most successful album to date has been 2009's "Leap of Faith" produced by Nashville's Gary Nicholson. Walker's last album was 2014's "Sky Still Blue" produced by Oliver Wood also on the Royal Potato plate.
"Gotta Get Back" is Walker's ninth album. For this album Walker looked back to some of those who first inspired him. By looking back he also moved forward. This time Walker chose the Wood Brothers drummer and keyboard player Jano Rix to be his producer. The album was mostly recorded at Zac Brown's Southern Ground studio in Nashville where it was once again engineered by Mike Poole. Although parts were recorded at various other studios the band primarily consists of Walker, guitar and vocals; Rix, piano, organ, drums and percussion; Myles Weeks, Steve Mackey or Chris Wood, bass; Derrek Phillips, drums and percussion, Oliver Wood, background vocals, and Scott Walker, cello and string arrangements. All of the songs were written or co-written by Walker, five with Nicholson.
"High Time" and "Fire in the Belly" are the two tunes that open this fine album. Both written with co-conspirator Nicholson; they are a bit of New Orleans funk. The former begins with Rix on organ evoking a hint of "The Band". Rix then switches to piano and percussion. The song will leave you dancin'. On the latter the band sounds like The Neville Brothers. "Way Past Midnight" is another song with a New Orleans groove.
"Back Around" is a gospel flavored song authored with both Nicholson and Wood. Walker's beautiful clear tenor takes us to church. Caribbean flavors are explored on "Movin' On"; and "Dreamer". The folky "Home Again" features Wood on the double bass. Both "The Sound of Your Voice" and "Blow Wind Blow" feature string parts played by Walker's sister and parents, which were arranged by Walker's father, Scott Walker.
Walker's music is always warm and enthusiastic. His talent has no limits. This break through album is highly recommended.
Richard Ludmerer