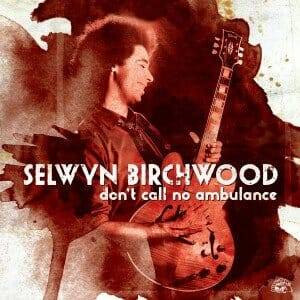 Selwyn Birchwood
Don't Call No Ambulance
Alligator Records
Selwyn Birchwood first picked up the guitar when he was 13. By the age of 17 he was into Jimi Hendrix, Albert King, Freddie King, Albert Collins, Muddy Waters and Buddy Guy. He met Texas-born blues legend Sonny Rhodes two years later and Rhodes took him under his wing. Selwyn Birchwood's first album was 2011's "Florida Boy" as he hails from Tampa. In 2013 The Selwyn Birchwood Band won The International Blues Challenge in Memphis.
Now 29, this is Birchwood's second album and first for Alligator Records. His band is comprised of veterans Regi Oliver, saxophone, who has played with everyone from the Pointer Sisters to Chubby Carrier; Donald "Huff" Wright, bass; and Curtis Nutall, drums, who has played with E.C. Scott and Joe Louis Walker.
The opening track is "Addicted". This fun tune reminds me of one by Bobby Radcliff. Birchwood shows he is a fine guitarist. Josh Nelms guests on rhythm guitar. On the title track "Don't Call No Ambulance", Birchwood plays guitar with fervor.
On "Walking in The Lion's Den" Birchwood's vocal has an ominous sound reminiscent of John Campbell. Birchwood is a mature vocalist. Oliver plays flute, bass clarinet and sax.
Joe Louis Walker joins in on slide guitar on "The River Turned Red". Oliver is on saxes. "Love Me Again" is a well penned song with a Stax-like quality.
"Tell Me Why" and "Overworked and Underpaid" are great vocal performances. I can't tell if Birchwood is playing slide or a lap steel. On the later RJ Harmon is featured on harp. "She Loves Me Not" is a bit popish but among my favorite tunes on this album. Oliver's sax solo is fabulous. "Brown Paper Bag" features Dash Dixon on keyboards.
"Queen of Hearts" is a bit of funk featuring Wright's bass and solos by Oliver and Birchwood. Oliver's sax opens "Falling From the Sky". "Hoodoo Stew" is a story song about Birchwood and a gator.
All songs are written by Birchwood. I am impressed with Birchwood's musical maturity and the overall quality of this band. This album is now number one on the Roots Music Blues Chart and I can't wait to see them live.
Richard Ludmerer