To many blues lovers in Atlanta and throughout the country, the loss of Sean Costello in 2008 on the eve of his 29th birthday still stirs sorrow. He was so brilliant as a blues man that even those of us who did not get to meet him personally feel as though we know him because of his music, and indeed, through his music he in part lives on. So to be able to hear 12 unreleased performances by Sean is a real treat, and it is made even sweeter by the knowledge that Vizztone and producer Steve Rosenthal are donating 100% of the proceeds from the CD to The Sean Costello Memorial Fund for Bi-Polar Research. It was this disorder that Sean suffered from that contributed to his accidental overdose in 2008 and that has caused us to lose so many creative musicians and others. Sean's mother Deborah and his stepfather Glenn Smith created the fund to honor Sean and to fund research to help stop this from happening to others
The CD was recorded at Rosenthal's studio, The Magic Shop, in 2005. Rosenthal was a close friend of Costello's. He has won 4 Grammys for his work with Coldplay and others. This work was deeply personal for him, as revealed in the CD booklet. The quality is excellent, while still keeping a live feel. Sean performs his own songs and covers like "You Wear it Well" and "Fool's Paradise." He is backed by bandmates Paul Linden, Melvin Zachary, and Ray Hangen.
Listening is definitely bittersweet as Sean sings songs with titles like "It's My Own Fault,," "Can't Let Go," "Hard Luck Woman," "Feel Like I Ain't Got No Home," "I Went Wrong," and "Fool's Paradise.." One cannot help but realize that, as is true of most of the best blues, Sean channeled many of his own confused and chaotic emotions into the music. It's not that he was always depressed or down; those who knew him say that he was funny and loved to have a good time, but most of these songs seem to reflect the darker side of his feelings.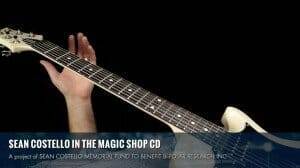 Still, this is brilliant stuff, with strong vocals and that amazing guitar playing that made Costello a prodigy in his early teens and just continued to develop throughout his life. We are blessed to have this new CD, and we are equally blessed to be able to have it and support a great cause in his honor at the same time.
Buy one for yourself and buy more for your blues-loving friends, especially if they have never discovered Sean and his music. This is his legacy, and it is a powerful and important one. It is available at Amazon and other outlets, or you can buy it directly from the Sean Costello Memorial Fund for Memorial Research.