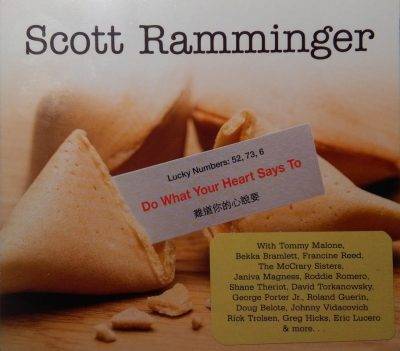 Scott Ramminger
Do What Your Heart Says To
Arbor Lane Music
Scott Ramminger is originally from Huntsville, Alabama. He graduated from the U. of Tennessee with a degree in journalism and settled in the Washington DC area. Ramminger has a broad musical taste he developed working as a sideman. He released "Crawstickers" in 2011 with some DC area musicians. In 2013 Ramminger followed up with "Advice from a Father to A Son" with musicians based out of New Orleans.
"Do What Your Heart Says To" is Ramminger's third studio recording and included are many of New Orleans' finest. The band includes Ramminger, vocals and saxophones; Shane Theriot, guitar; David Torkanowsky, keyboards; George Porter Jr., bass; Doug Belote, drums; and a horn section including trombonists Rick Trolsen and Greg Hicks from Bonerama; and trumpeter Eric Lucero from The New Orleans Jazz Orchestra.
All of the songs have been written by Ramminger who this time features some fine guest vocalists. "Living Too Fast" is sort of a New Orleans' anthem and a duet with Tommy Malone of The Subdudes. Torkanowsky is featured on piano. Malone guests again on "Mystery To Me" featuring Lucero's trumpet and Belote's second line beats.
"Someone New to Disappoint" is a great song. It is a duet with Bekka Bramlett. Ramminger solo's on sax. Bramlett appears again on "Hoping That the Sun Won't Shine".
The title track "Do What Your Heart Says To" features a duet with Francine Reed who sings with Lyle Lovett's Large Band. Ramminger and Torkanowsky both take fine solos.
Porter's bass creates some funkiness on "Give a Pencil to A Fish" with The McCrary Sisters singing backup. Theriot solo's on his guitar. The Sisters are featured again on "Get Back Up" with great sax from Ramminger and Torkanowsky on organ; on "I Need a New One" and on "Walk A Little Straighter".
"Winter is Always Worse" and "Off My Mind" are two more well written songs with solos from Ramminger and Theriot. "Stubborn Man" features the accordion of Roddie Romero and an R n' B sax solo from Ramminger.
This is a great album from Ramminger who will have you up and dancin' in no time.
Richard Ludmerer
Products from Amazon.com
‹
›