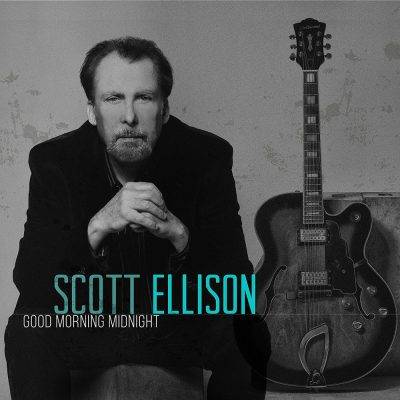 Scott Ellison
Good Morning Midnight
Red Parlor Records
Scott Ellison hails from Tulsa, Oklahoma. In 1977 guitarist Ellison backed up country music star Jesseca James and in 1981 joined up with Clarence "Gatemouth" Brown. In the mid 1980's Ellison relocated to Los Angeles and found work with The Box Tops, The Marvalettes, The Drifters, The Coasters and others. He formed his own blues band in the early 90's and opened for The Fabulous Thunderbirds, Bobby "Blue" Bland, Leon Russell, and Buddy Guy. Ellison released his first albums "Chains of Love" in 1993 and "Live at Joey's" in 1995.
Ellison fifth release 2001's "Cold Hard Cash" was produced by Dennis Walker, whose production credits include Robert Cray, on the Burnside label. His follow-up recording was 2003's "Bad Case of The Blues". In 2008 Ellison released "Ice Storm" on Earwig Records. Ellison recalls opening for B.B. King and being called up on stage by him; it was one of his biggest thrills. Songs from 2011's "Walking Through The Fire" were co-written with producers Charles Tuberville and Walt Richmond (who also recorded with Eric Clapton and Bonnie Raitt). Ellison's 2015 "Elevator Man" was also produced by Richmond. Ellison is a prolific songwriter who has also written songs for television and the movies.
"Good Morning Midnight" is Ellison's twelfth album. Ellison has co-written all but one of the thirteen songs with several different writing partners including Richmond who once again is producer. "Sanctified" was co-written by Chuck Blackwell, Ellison, Richmond, and Scott Hutchison. Blackwell who also sits in on drums played with Russell, Delaney Bramlett, Joe Cocker, and Bob Dylan. Ellison has always kept good company and he turns over the vocal chores to Chris Campbell, bassist, an original member of Bob Seger and The Silver Bullet Band. The background vocalist is Marcy Levy who also tours with Seger. Ellison is on lead guitar while Gary Gilmore is on bass.
Ellison sings but switches to bass on "No Man's Land"; "Big City" and "Gone for Good" written with Richmond. On the latter the writing credit also includes Jim Barton; Ellison's guitar intro and vocal are terrific, this is a great song.
Ellison has also co-written three songs with Campbell. "Hope And Faith" has a great reggae beat provided by Ellison, lead guitar; Tuberville, guitar; Jon Parris, bass; Danny Timms, organ; and drummers David Teegarden and Robbie Armstrong. On "You Made A Mess (Outta Me)" Tuberville switches to drums replacing Teegarden while Jon Glazer is added on organ and piano; this is a great vocal from Ellison. On "Tangled" Matt Kohl plays bass, and Hank Charles sits in on keyboards. These are my favorite songs on this fine album.
"Last Breath" was written by Steve Pryor and Scott Hutchison and first appeared on The Steve Pryor Bands 1991 self-titled album. Ellison dedicates this album to his long time friend Pryor who passed away last year. The band includes Kohl, Charles, Armstrong, Ron McRorey on percussion and Brad Absher on baritone guitar. Richmond's production is marvelous.
"Another Day in Paradise" and "Mysterious" we're both written with guitarist Tuberville who also sits in on these.
Three more songs were written by Ellison with Hutchison; they are the title track "Good Morning Midnight" featuring Jimmy Junior Markham on harmonica; "Wheelhouse" with some jazzy piano from Timms and the horn section of Mike Bennett, trumpet; and Steve Ham, trombone; and the closer "When You Love Me Like This" with Markham on harmonica, Ron Martin on bass, and Tim Smith on drums.
Ellison's music is laid back. He is an exceptional songwriter, vocalist and bandleader deserving of a lot more recognition. This recording is highly recommended.
Richard Ludmerer
[amazon_link asins='B072M58CJB,B00VNVXECQ,B001AR014C,B006KEO17S,B0000C5053,B071JWJPPF,B071G9F1YK,B004QNJ0B2′ template='ProductCarousel' store='maasc-20′ marketplace='US' link_id='d53c56d8-90ae-11e7-afd3-0fb377cb4813′]