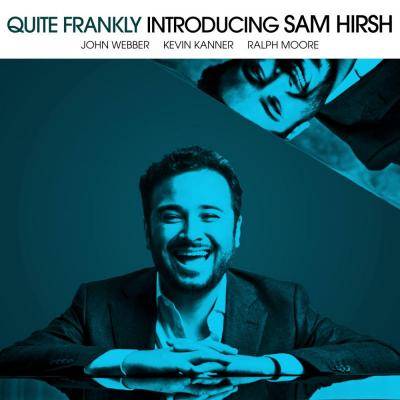 Sam Hirsh
Quite Frankly
Umadas Music
Pianist, composer and educator Sam Hirsh makes his debut as a bandleader with Quite Frankly, recorded to celebrate the pianist's thirtieth birthday and tenth year as a staple musician in the jazz scene in Los Angeles. Joined by a bicoastal cadre of world-class improvisers, Hirsh introduces a set of original tunes inspired mostly by family and friends. On this release, Hirsh is accompanied by bassist John Webber, drummer Kevin Kanner, and renowned saxophonist Ralph Moore. Although Moore and Kanner had played with Hirsh before, this marks the first time that New York bassist Webber has played with Kanner.
Having been called a "seasoned artist with a preternaturally old soul," Sam Hirsh delivers a thoughtful album of original material with strong ties to the lineage of jazz Hirsh notes, "I think a lot about keeping the tradition of this music alive, but in my own unique way. This project marks the beginning of what I hope will be an evolving life-long journey."
Hirsh's frequent collaborator, the fluent, swinging saxophonist Ralph Moore is best known for his work with Horace Silver, Dizzy Gillespie, Roy Haynes and Freddie Hubbard. Hirsh recalls when he nervously invited Moore to perform with his band at The Lighthouse in Hermosa Beach. "Ralph has played with me many times now and we've become good friends. I'll never forget when he said he 'hears where I'm coming from' when he plays my tunes." Moore graces four of the nine selections, the others rendered as a piano trio.
Quite Frankly has been in the works for a long time. Hirsh moved to Los Angeles in 2009 and says this in the liners, "This album represents my roots, my family, friends and everyone that's inspired me and make me laugh." The title track itself is dedicated to Hirsh's late friend Frank Ambrose, an older retired truck driver who would often listen to Sam perform in his earlier years. The bright swing of the tune was inspired by Ambrose's collection of swing records which he introduced to Hirsh in his formative years. The gospel-tinged melody gives way to Hirsh's first solo on the album, displaying the young pianist's stunning facility on the keys, a soulful sound harkening back to the stylings of Cedar Walton.
Hirsh's father is a bebop saxophone player from Chicago, living in Portland, Oregon. Sam grew up playing in his father's band and composed the tune "Pop's Delight" with his father in mind. "He hipped me to my favorite pianist Cedar Walton when I was young," Hirsh recollects, "one record in particular: 'Just One of Those Nights' live at the vanguard with Cedar, David Williams, Billy Higgins and Ralph Moore. Ralph is my dad's favorite living tenor player, so to have Ralph play this melody on my debut record was very special." The track features a solo by Moore, masterfully displaying his melodic invention on what Hirsh refers to as "fun changes to blow on."
"Look For the Silver Lining" is the sole standard as Hirsh interprets Jerome Kern's masterpiece slinky a beautiful, reflective ballad played in a trio context. Inspired by Chet Baker's rendition of this piece, Hirsh's performance is every bit as lyrical and uplifting; while also demonstrating the profound interplay between the bandleader and his rhythm section. Hirsh's mid-tempo blues "No C!" is the perfect fit for Ralph Moore's muscular tenor sax sound to soar over a spirited trio. Hirsh remarks that this high-energy track has become his theme song of sorts; the title refers to the spelling of the artist's last name which "everyone always spells Hirsch.
The graceful trio rendered "Kyoto Shuffle" is a tribute to the Japanese city where Hirsh was born. "Ways of the Wise" is another vehicle for Moore's sturdy tenor, written as if Hirsh has him in mind. Hirsh has full command of bop and post-bop witha hefty dose of blues in his approach best evidenced by the title track; as well as the Bill-Evans like balladeer style in the Kern tune and his own "Reminiscing" and "Song for Sophie."
The auspicious beginning bodes well for the future that Hirsh covets. His piano playing is not only brilliant but his touch exudes joy and emotional nuance.