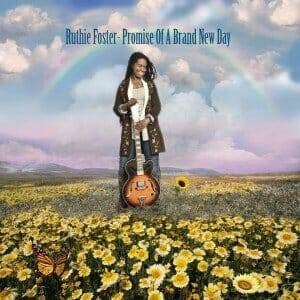 Ruthie Foster
Promise of a Brand New Day
Blue Corn Music
Ruthie Foster, the former gospel singer turned Blues singer, won the 2010 Blues Music Award for Contemporary Blues Female Artist of The Year. She followed that up by winning Traditional Blues Female Artist of The Year in 2011, 2012, and again in 2013. Her last two albums 2009's "The Truth According To Ruthie Foster" and 2012's "Let It Burn" both received Grammy award nominations. To say she is "on a roll" would be an understatement.
For this, her ninth studio album, Foster chose Meshell Ndegeocello to be her producer. Ndegeocello, a star in her own right, knows her way around a recording studio so Foster let her call the shots.
Ndegeocello chose Foster's band for this recording and it includes Ndegeocello on bass; Chris Bruce, guitar; Jebin Bruni, keyboards; Ivan Edwards, drums; and backing vocalist Nayanna Holley. Foster chose the guest artists, guitarist Doyle Bramhall II; and singer Toshi Reagon.
Seven new songs were written or co-written by Foster. On "Singing The Blues" Foster sounds like a cross between Bonnie Raitt and Irma Thomas. I love the lyric "a bit of Bobby "Blue" Bland never gets old". Bruni's organ gives the song that Memphis feeling.
Foster confesses that "Let Me Know" was originally written for Marcia Ball but then she decided to keep the song for herself. Bramhall plays guitar on this soulful rocker.
"My Kinda Lover" features Bruce on guitar. This song, "Learning to Fly" and "Complicated Love" explore relationships. "Brand New Day" is performed acappella and Ndegeocello's influence is apparent.
"It Might Not Be Right" was co-written by Foster and soul sensation William Bell who authored the 1961 hit "You Don't Miss Your Water Till the Well Runs Dry". This is Memphis soul.
Then there are the fabulous covers. "The Ghetto" was co-written by Bonnie Bramlett, Bettye Crutcher, and Homer Banks. It was recorded by both The Staple Singers and Delaney and Bonnie. I love this song and Foster's version is a good one.
"Outlaw" was written by Gene McDaniels. In 1961 his hit "A Hundred Pounds of Clay" sold over 1 million copies. He passed in 2011. This still relevant song is a treasure.
"Second Coming" was written by Willie King (1943 – 2009). King "became active with the civil rights movement which inspired him to write socially conscious blues songs." He described his music as "struggling blues" because of its focus on the "injustices in life in the rural South."
"New" was written by Toshi Reagon, Pete Seeger's godchild, and she guests on this song.
This new one is the best I have ever heard from Ruthie Foster.
Richard Ludmerer