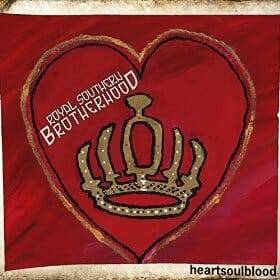 Royal Southern Brotherhood
Heart Soul Blood
Ruf Records
Cyril Neville, at 66, is the youngest of the four Neville Brothers. Although the "soul" of the Crescent City, they seldom still perform.
Cyril however still has the passion to perform. In 2012 he formed The Royal Southern Brotherhood with Mike Zito, Devon Allman, Charlie Wooten, and Yonrico Scott. Inspired by Neville they released their first self titled album later that year. The remainder of 2013 was spent in preparation of this new album as the Royal Southern Brotherhood toured Europe. Rumors suggested that the time spent on the road changed them from session musicians into a formidable band.
Neville plays percussion while Allman and Zito handle the guitar chores. They switch off on the vocals, sometimes sharing them. The rhythm section of Wooten, bass, and Scott, drums, are the strong foundation that supports their fat New Orleans groove.
"World Blues", the opening track, was written by Zito with help from the band. Zito plays slide and sings but they all join in on the chorus "the world blues is running through my veins". This is blues rock at its finest. "Rock and Roll", "is the child of rhythm and blues" is written and sung by Neville.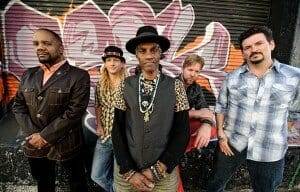 "Groove On" is a bit of funk written by Wooten about his wife and family. Allman and Zito added the finishing touches. The shared chorus is "my heart, my soul, my blood". "Here It is" is a groove that started as a sound check by Wooten, Scott, and Zito and features Neville's lyrics. "Callous" and "Ritual" are both written by Zito with lyrics by Neville.
"Let's Ride" was written by Cyril and his son Omari Neville, sung by Cyril it is a soulful homage to bikers everywhere. "Shoulda Known" is written and sung by Allman. "She's My Lady" is a collaboration by the band. Sung by Neville the song sounds like The O'Jays. "Takes A Village" is written and sung by Zito and about family. On the reggae like "Love and Peace", the singing is shared again, as is the writing.
The Royal Southern Brotherhood are a great band. Combining blues and soul the way they do down in N'awlins, the whole is greater than the sum of its parts. This fabulous album was produced by Jim Gaines and engineered by David Z.
Richard Ludmerer
To Purchase this CD CLICK BELOW!!