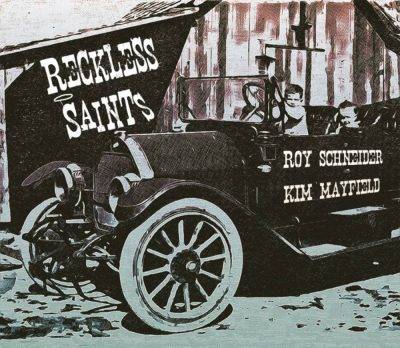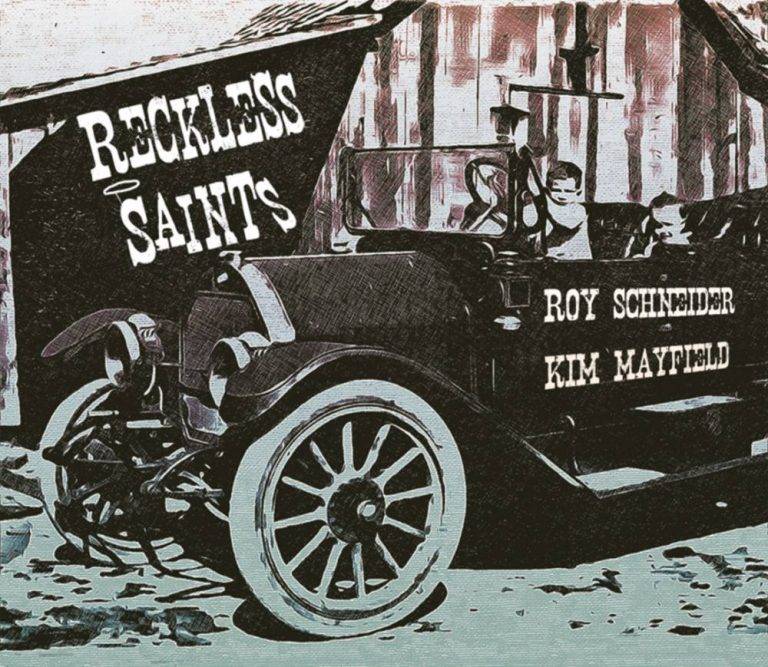 Roy Schneider& Kim Mayfield
Reckless Saints
Shiny Gnu
Thanks to roots artist Gurf Morlix for describing Roy Schneider and Kim Mayfield's sound better than this writer can. His term "blue twangled folk n' roll" is perfect. This husband and wife team runs the gamut from engaging acoustic folk to driving bluesy tunes, with hints of twang sprinkled in. The album title may well eventually become the duo's band name, after touring internationally for ten years.
Both are songwriters and multi-instrumentalists, and each contribute songs and lead vocals on ten originals plus a closing, well-timed cover of Blaze Foley's "Election Day," featuring Foley's long-time musical partner, the very same Gurf Morlix. High profile guests include harmonicist Charlies McCoy who plays on "Walking on a Wire" and Bonnie Raitt's original famed bassist Freebo plays on that track as well as on the opening "Jump In." Others guest on select tracks.
The opener "Jump In" chronicles in a fast-paced way the musician traveling life of the couple while "Walkin' on a Wire" speaks to the mysterious confessional aspects of Schneider's previous experience. It's a harrowing one. Perhaps you've read about or seen the documentary on Straight, Inc. a psychological reprogramming facility disguised as a drug rehabilitation that operated in several states from 1976 through 1993. Schneider spent a full year there in 1985 as a 17-year-old and was unwilling to talk about it for thirty years, until now. "Angels Along the Road" tells the true story of survival following his escape and nods to the very kind people who took him in as a vagrant.
Schneider met Mayfield in 2003 and the two have made music together since. She takes the lead on the contemplative (sounds like a Foley or Townes Van Zandt title) "If I Die Tomorrow." She harmonizes with Schneider on "Poison Arrow" and takes the lead on two of her songs, the ballad "Ring Around the Moon" and "Buddha Baby," the story of her adopted baby boy.
As the duo weaves in and out of these well-crafted acoustic tunes, you'll note the Dylan influence in "Subjugated Love," the cleverly metaphor ridden "Runaway Train,'' a commentary on our troubled times with an engineer who has no control. They also address the recent aftermath of Hurricane Irma in "After the Storm."
The album was recorded in Schneider's studio in Florida and mastered in Austin by acclaimed producer, songwriter and engineer Mark Hallman (Carole King, Ani DiFrance and Eliza Gilkyson) who has played with and heard countless artists. He says, "This truly is a wonderful record. It is one of the finest singer/songwriter records to come across my mastering desk in a long time."
Some publications have already likened Schneider to the best songwriters like Earle, Clark, and Lovett. The ringing impression from this offering is the seamless blending of so many forms of roots music. combined with meaningful and often insightful lyrics. It works beautifully.
[amazon_link asins='B07JK4ZJ4S,B07JX5V7B7,B07JKN37VZ,B07JK799MY,B07JK5611F,B07JK55LQZ,B07JK55H12,B07JJYDXCY,B07JJSHN37′ template='ProductCarousel' store='maasc-20′ marketplace='US' link_id='f7b5406a-de2f-11e8-a5bb-d7600874ce27′]