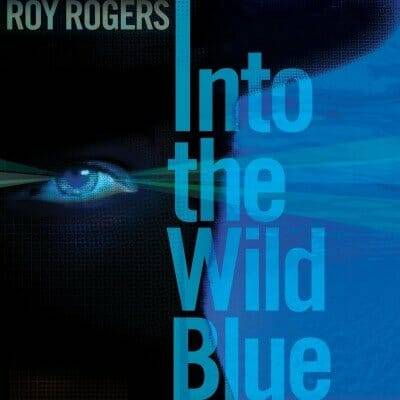 Roy Rogers
Into The Wild Blue
Chops Not Chaps Records
Roy Rogers is a delta slide guitar master. From 1982 to 1986 Rogers was a member of John Lee Hooker's Coast to Coast Band and he plays guitar on, and produced, John Lee Hooker's albums 'The Healer", "Mr. Lucky" and "Chill Out". Rogers also appears on the soundtrack of the 1990 movie "The Hot Spot" alongside Hooker, Miles Davis, Taj Mahal, and Earl Palmer.
My favorite Rogers' albums include 1993's "Slide of Hand" on Liberty Records; 1996's "Rhythm and Groove" on Pointblank Records; 2009's Split Decision" on Blind Pig Records and his 2011 collaboration with the late Ray Manzarek of The Doors, "Translucent Blues", also on Blind Pig. Rogers' is one of our best slide guitarists. This is Rogers' 23rd album.
Rogers calls his band The Delta Rhythm Kings and their performances at the New Orleans Jazz and Heritage Festivals are legendary; but this new album is under his own name. The band consists of Rogers: vocals, guitar and percussion; Steve Ehrmann: who has long been associated with both Rogers and Hooker, bass; Jimmy Pugh: formerly with The Robert Cray Band, keyboards; and Kevin Hayes: who also played with both Hooker and Cray, drums. Carlos Reyes sits in on violin and stringed harp; Omega Rae is the background vocalist.
All of the songs are new originals. Rogers' opens with the danceable and rollicking "Last Go Round". On "Don't Let Them Win" Rogers' settles down into his syncopated slide style as his band provides muscular percussion. Hayes lays the foundation necessary for Rogers' guitar antics while Jimmy Pugh is busy in the background providing just the right amount of jelly on the keyboards.
"Got To Believe" is adventurous as Rogers' stretches our expectations. Rogers' nasal tenor really grabs me here. Rogers' slide is fantastic on "Losin' You" with Pugh on the pump organ. "She's a Real Jaguar" is my favorite with the lyric "she's a real Jaguar doin' what she wants to".
Rogers' includes four instrumentals. Pugh's organ opens "Dackin"; the title track "Into The Wild Blue"; "High Slippin", and the evocative "Song For Robert" which is a tribute to his late brother.
Rogers' calls his record label "Chops Not Chaps" to differentiate him from that other Roy Rogers. This is another great album from guitarist Rogers, a two-time Blues Music Award nominee. This album should put Rogers back on top where he belongs.
Richard Ludmerer