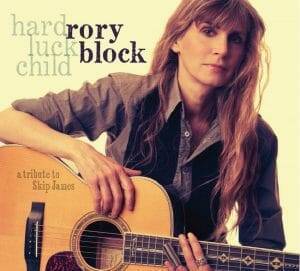 Rory Block
Hard Luck Child: A Tribute to Skip James
Stony Plain Records
Rory Block's picture hangs in the entrance to the offices of the Martin Guitar Co. They have a Martin OM-40 Signature Edition guitar named after her. Block is one of our greatest exponents of Country blues guitar. This is her fifth recording in her celebrated Mentor Series on Stony Plain Records. Previously she paid tribute to Son House, Mississippi Fred McDowell, The Reverend Gary Davis and Mississippi John Hurt. Overall this is Block's 33rd recording.
Admittedly James is lesser known than the others in the Mentor Series whom I would consider country blues icons. James' recorded output was also significantly less. In the hands of Block these mostly obscure songs become alive. All of these songs were written by James except for the opening track which was written by Block. "Nehemiah James" then is James' story as told by Block who met him once early in his career and again shortly before his passing. Many describe James as being brooding and unfriendly but not to Block. She remembers James as a deep and soulful man.
Block states that it is impossible to remove the gospel from blues and that is especially true in James' music. The gospel theme is obvious especially on "Jesus is a Mighty Good Leader"; "Little Cow and Calf is Gonna Die Blues", and "Cypress Grove Blues". She also covers his better known works such as "Hard Time Killing Floor Blues", "Devil Got My Woman", "Hard Luck Child" and his most well known song "I'm So Glad" which was covered by Cream (with Eric Clapton, Jack Bruce, and Ginger Baker) on their fourth and final album, 1968's "Goodbye".
Block is an unusually gifted acoustic guitarist, an able vocalist and an educator. She is one of our national treasures.
Richard Ludmerer