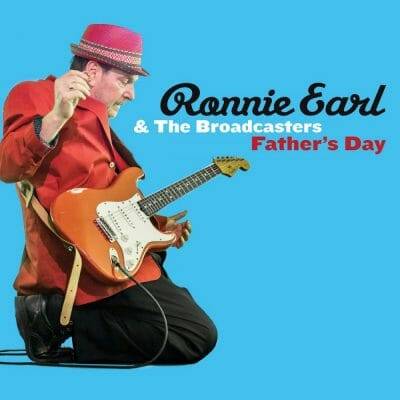 Ronnie Earl & The Broadcasters
Father's Day
Stony Plain Records
There is no other blues guitarist of our generation who plays with the passion and creativity expressed by Ronnie Earl. When Earl decided to limit his utilization of vocalists his compositions and interpretations became closer to Jazz. In 2014 Earl won his third Blues Music Award for Best Instrumentalist-Guitar.
The Broadcasters still consist of Earl, guitar; Dave Limina, piano and Hammond B-3; Jim Mouradian, bass; and Lorne Entrees, drums. On this new album Earl has once again decided to feature vocalists. Special guests include vocalists Michael Ledbetter and Diane Blue.
Michael Ledbetter, a Chicagoan, has a varied musical background that includes singing opera. At the age of 23 he decided to follow his muse and sing Chicago styled Blues. Ledbetter a distant relative of Huddie "Leadbelly" Ledbetter has sung with both the Kilborn Alley Blues Band and The Nick Moss Band. He is featured vocalist on eleven of the thirteen tracks included.
Diane Blue released her own recording "Here I Am" in 2006. She is heard singing duet with Ledbetter and also sings one on her own.
The opener, Otis Rush's "It Takes Time", features guitarist Earl with two guest rhythm guitarists; Larry Lusignan and Tim O'Connor. Earl's lead guitar highlights this track sung by Ledbetter. "Right Place, Wrong Time" another Otis Rush song features great organ from Limina and the horn section of Scott Shetler, baritone sax; and Mario Perrett, tenor sax. The horn arrangement is by Shetler. Ledbetter's passionate vocal is outstanding. Earl plays inspired guitar.
Two songs are included from Magic Sam. "What have I Done Wrong" is sung by Diane Blue. It was originally covered by Earl on his 2005 Stony Plain recording "The Duke Meets The Earl. "All Your Love" was first recorded by Earl on his 2001 Telarc Records recording "Ronnie Earl and Friends".
The lone instrumental is Billy Timmon's "Moanin'" reprised by Earl from his 1995 "Blues Guitar Virtuoso Live in Europe" recording. Covered also is B.B. Kings "I Need You So Bad" passionately sung by Ledbetter with great organ from Limina. Ledbetter's best vocals are "Fats" Domino's "Every Night About This Time" with a great guitar solo from Earl; and Brook Benton's "I'll Take Care of You" first recorded by Earl on his 1983 solo debut "Smokin'".
Earl includes three originals. The first is "Higher Love", a vocal duet between Blue and Ledbetter. The title track "Father's Day" is a passionate tribute by Earl to his Dad. Sung by Ledbetter, Earl and Limina play behind the vocalist. "Follow Your Heart" reprised by Earl from his second album 1984's "They Call Me Mister Earl" is sung as a duet between Blue and Ledbetter. Guesting is guitarist Nicholas Tabarias. This is a fabulous production including another horn arrangement by Shetler and Limina's fabulous B-3.
Earl chooses Thomas Dorsey's "Precious Lord" to close out this wonderful album. In the liner notes Earl dedicates this album to several including his mom and dad and pianist David Maxwell.
This album also serves as an introduction to Ledbetter. Earl's production is so good that he might have an additional career as a producer.
There is a lot of great music on this album. This is Earl at his very best. This is highly recommended listening.
Richard Ludmerer
https://youtu.be/ki3QwnLrVBA

https://open.spotify.com/artist/66YrJYZbRNlji0MisS2D1I