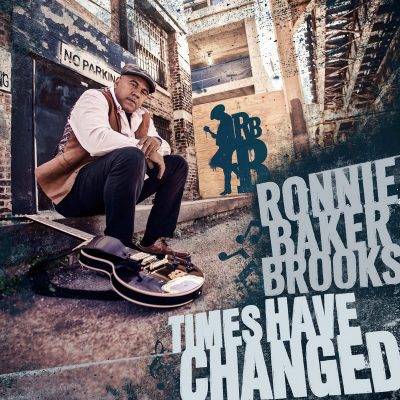 Ronnie Baker Brooks
Times Have Changed
Provogue Records/Mascot Label Group
Ronnie Baker Brooks was born Rodney Dion Baker in January, 1967. Brooks is a Chicago blues, and soul blues guitarist and vocalist, and the son of Lonnie Brooks. Brooks joined his father's band in 1986 and appears on his father's 1988 Alligator records album "Live from Chicago: Bayou Lightning Strikes".
In 1992 when Brooks' dad fell ill Ronnie filled in for him at The New Orleans Jazz and Heritage Festival. Brooks started his own band and recorded his 1998 debut "Golddigger" on the Watchdog label produced by Jellybean Johnson. Brooks followed up with 2001's "Take Me Witcha". Brook's last album 2006's "The Torch" was also on Watchdog Records. Brook's albums have all been critically acclaimed. Brooks has three Blues Music Award nominations having been nominated twice as Contemporary Blues Male Artist.
It has been ten years since Brooks' last studio recording. "Times Have Changed" is produced by the Grammy winning Steve Jordan whose production credits include Robert Cray's "Take Your Shoes Off"; and albums by Buddy Guy, John Scofield, Herbie Hancock and Boz Scaggs. Jordan is also a multi-instrumentalist and drummer. From 1994 until 2002 Jordan was the drummer for Booker T. and The Mg's and he appears on their 1994 album "That's The Way It Should Be". He has also recorded with Keith Richards and toured with Eric Clapton.
Brooks' opens with "Show Me" written and recorded by Joe Tex; and a 1967 hit single. It is given the full Stax Records treatment having been recorded by Brooks at the Royal Studios, in Memphis. Brooks' southern soul vocal and guitar is rounded out by an all-star band including rhythm guitarists Steve Cropper and "Big Head" Todd Mohr; Felix Cavaliere (The Rascals), organ; and a fabulous horn section consisting of Jim Horn (George Harrison), baritone sax; Ben Cauley (The Bar-Kays), trumpet; Jack Hale Sr. (The Memphis Horns), trombone; and Lannie McMillan (The Royal Horns), tenor saxophone. The rhythm section is Willie Weeks (Donny Hathaway), bass; and producer Jordan, drums. Brooks' vocal is right on the money as it just doesn't get any better than this.
"Doing Too Much" was written by Brooks and Mohr. Mohr also shares the vocal and guitar chores. They are joined by The Hi Records house band The Hi-Rhythm Section consisting of Leroy Hodges, bass; Charles Hodges, Hammond organ; and Archie "Hubby" Turner, electric piano.
"Twine Time" is an instrumental from Andre' Williams; Ronnie's dad Lonnie guests on guitar. The band includes everyone above except for Cavaliere and Leroy Hodges. Michael Toles is added on rhythm guitar.
Four of the tracks include a six piece string section with arrangements from veteran Stax pianist and producer Lester Snell. The title track "Times Have Changed" was co-written by Brooks and Memphis rapper Al Kapone. "Give Me Your Love" was written by Curtis Mayfield. Darryl Pruitt, Jr., keyboards, is added. Brooks shares the vocal with the Grammy nominated R n' B stylist Angie Stone. "Old Love" was written by Robert Cray and Eric Clapton. It must have been recorded several years ago as Brooks shares the vocal with Bobby "Blue" Bland who sings lead. Bland passed in 2013 and Mabon "Teenie" Hodges, who is on electric guitar, passed a year later. "When I Was We" is another original from Brooks featuring Turner on electric piano.
"Long Story Short" is another original from Brooks. Jonathan Richmond joins the band on electric piano. This time it's the horns that are arranged by Snell.
"Give The Baby Anything The Baby Wants" was also written by Joe Tex and a single for him in 1971. This stripped down version features Eddie Willis from The Funk Brothers on rhythm guitar.
"Come On Up" is The Rascals classic written by Cavaliere. The track was recorded at the legendary Bluebird Studio in Nashville. Brooks shares the vocal with Cavaliere while Lee Roy Parnell is added on guitar.
"Wham Bam Thank You Sam" was co-written by Brooks with Keb' Mo and his pianist Kevin So. The band is joined by background vocalists Sharisse and Shontelle Norman, and Stefanie Bolton.
Brooks has long been a festival favorite. We have waited a long time for this new album. Brooks' musical knowledge and vocal talent is furthered by the wonderful cast of people he has surrounded himself with. About working with Jordan, Brooks states that he is "a better musician for this experience." These are award winning performances.
Richard Ludmerer
[amazon_link asins='B01MCZNQQA,B01N3YZMSW,B01N8UKYQD,B01MQHB1Y0,B01N916TS0,B01N8Y6Y1D,B01N8UKNCM,B01N3UWPMF,B01N3MOYJZ' template='ProductCarousel' store='maasc-20′ marketplace='US' link_id='5b303da4-d939-11e6-9a04-bb23809951e6′]