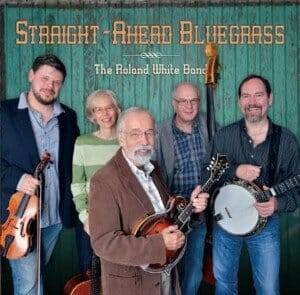 The Roland White Band
Straight Ahead Bluegrass
Roland White Music
In April 1964 World Pacific Records released The Kentucky Colonels Applachian Swing! The Kentucky Colonels were Clarence White, guitar; Roland White, mandolin; Billy Ray Latham, banjo; Bobby Slone, fiddle; Leroy McNees, dobro; and Roger Bush, bass. Clarence White had basically invented Bluegrass guitar picking. Alongside Clarence his brother Roland played a beautiful understated mandolin style.
Clarence originally a sideman on the earlier Bryds albums went on to eventually become a Bryd himself. Roland went on to play guitar with Bill Monroe and later mandolin with Lester Flatt's Nashville Grass. Sadly in 1973 Clarence was killed loading instruments into the trunk of a car.
Roland became a member of Country Gazette soon after. That band included Roland, mandolin; Byron Berline, fiddle; Al Munde, banjo; Joe Carr, guitar; and Roger Bush, bass. Country Gazette remained together for thirteen years. Roland released 1976's "I Wasn't Born to Rock N Roll" under his own name and it remains one of my favorite albums.
In 1989 Roland joined the Nashville Bluegrass Band. They received a Grammy nomination for each of their five albums and won twice. That band also included Stuart Duncan, Alan O'Bryant, Pat Enright and Gene Libbea. Roland is also an accomplished vocalist and he got to sing a few songs on each album.
In 2000 the Roland White Band was born and they earned a Grammy nomination for "Jelly on My Tofu". This new 2014 album is the bands second recording. The Roland White Band includes Roland, vocals and mandolin; Richard Bailey, banjo (a four time Grammy nominee); Diane Bouska, vocals and guitar; Brian Christianson, fiddle; and Jon Weisberger, bass.
"Saro Jane" the song that opens this album is credited to Lester Flatt and Earl Scruggs. Sometimes listed as "traditional" there are many different versions of this song. Richard Bailey's banjo is the first thing we hear, followed by Christianson who takes a great fiddle solo. The band harmonizes on the chorus. "I'd Rather Be Alone" was written by Tommy Lee James but also recorded by Flatt and Scruggs; on it we get to hear Roland's fabulous mandolin and his beautiful tenor voice.
"Pike County Breakdown" is credited to Rupert Jones a.k.a. Bill Monroe. On this instrumental each member gets their chance to solo. "On My Way Back to The Old Home" is credited here to Bill Monroe's brother Charlie Monroe. It is often however credited to Bill Monroe.
"If I Lose" is from Ralph Stanley. The song opens with Diane's guitar. "If I loose a hundred dollars when I try to win a dime my baby's got money all the time". "Sally Ann" and "Soldier's Joy" are both instrumentals listed as Public Domain.
"Loose Talk" is from Freddie Hart. Hart is a Honky Tonk and country music songwriter most famous for "Easy Loving". Diane Bouska and Roland share the lead vocal.
"Powder Creek" is an instrumental written by Roland and Clarence White. It originally appeared on "I Wasn't Born to Rock N' Roll" and it is reprised here. "Hot Flash On the Highway" is an original instrumental written by Roland featuring his mandolin and Bailey's banjo. Bailey's banjo playing reminds me of a fiddle break.
Included also are three of my favorite songs which have become Bluegrass standards. "Cry, Cry Darling" is from J.D. Miller and Jimmy Newman and has been recorded by Bill Monroe, Ronnie Milsap, and Hank Williams Jr. among many others. "Blue Night" is from Kirk McGee. Sam and Kirk McGee were one of country music earliest duos. Their songs were often recorded by Bill Monroe. "High On a Mountain" is from Ola Belle Reed. These are fabulous versions of these songs.
Roland pays tribute to his Bluegrass roots. Bill Monroe and The Bluegrass Boys; Lester Flatt, Earl Scruggs and The Foggy Mountain Boys; and The Stanley Brothers, created the music that influenced generations. Roland is now one of our foremost traditionalists.
If you're a student of Bluegrass remember to go "straight" before you create.
Richard Ludmerer