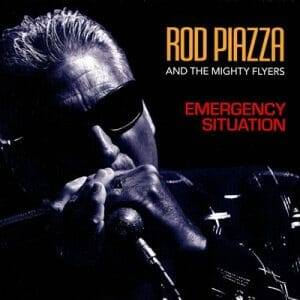 Rod Piazza and The Mighty Flyers
Emergency Situation
Blind Pig Records
The Mighty Flyers are the award winning Chicago styled blues band originally formed in 1980 by Rod and Honey Piazza. In 1998 Rod won the Blues Music Award for Best Instrumentalist – Harmonica. My favorite Mighty Flyer recordings are the three albums they recorded for Tone Cool Records from 1999 until 2002. During these years The Mighty Flyers were BMA Band of the Year three times. They took that award again in 2006. In 2008 Honey won the BMA for Piano Player of The Year. Therefore they are perennial contestants each and every year.
They recorded a cd and a dvd for Blind Pig Records in 2004 but between 2005 and 2011 they recorded four albums on the Delta Groove label. This new album marks their return to Blind Pig. The band today consists of Rod Piazza, harp; Miss Honey, piano; Henry Carvajal, guitar; David Kida, drums; and Norm Gonzales, bass. The twin Saxes of Ron Dziubla and Jim Jedekin are featured throughout the recording.
This is Rod's 25th overall studio recording and 18th with The Mighty Flyers. Like most harp players he is also a blues music historian so the songs he is covering are of interest. Piazza has included two songs from James "Wee Willie" Wayne an obscure Texas guitarist, the opening track "Neighbor, Neighbor" and "Bad Weather Blues". Piazza is wonderful on two songs from Texas born pianists; Amos Milburn's "Milk and Water" and Big Walter Price's "Gambling Woman".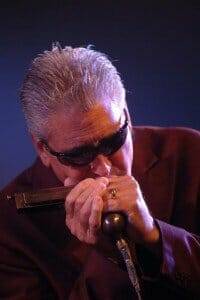 Sam Myers was from Laurel, Mississippi and for many years the front man for Anson Funderburgh and the Rockets. Piazza covers "Sleeping in the Ground" written by Myers and it's one of the highlights on this fine album. Piazza also covers Johnny Ace's "The Clock" and "Lee Dorsey's "Ya-Ya" popularized by Lloyd Price.
"Tricky Woman" is from James Lane a.k.a. Jimmy Rogers and it is reprised here. Piazza played harp on Roger's "Feelin' Good" album which included the original sung by Rogers. The backing band included Honey and the rest of The Mighty Flyers. Although not mentioned in the liner notes this wonderful album is also available on Blind Pig.
Piazza has also written three new songs for this outing. The jazzy "Emergency Situation" and two harp instrumentals, the rollicking "Frankenbop", and the swinging "Colored Salt".
This great new release from Piazza should re-affirm the band as one of the genre's best.
Richard Ludmerer
To Listen to and purchase Rod Piazza's New CD Click Below!