Robben Ford "A Day in Nashville"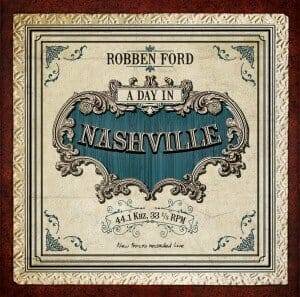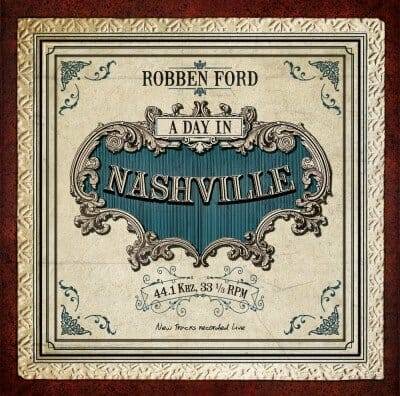 Provogue www.MascotLabelGroup.com
"A Day in Nashville" is Ford's second album for the Provogue record label and follows last year's solid "Bringing It Back Home." I enjoyed Ford's previous album; this one's better with its spontaneous fireworks and seven of the nine tunes are authored or co-authored by Ford. The spontaneity found on this album was (in all probability) due to the fact that it was recorded in one day, live in the studio, with minimal edits, that evidently inspired the entire bands potency.
Ford's opening "Green Grass, Rainwater" sets the tone for most of this recording with its upbeat demeanor; the band is ultra-tight, note: Barry Green's trombone adds a distinct sound that's unique and captivating. "Midnight Comes Too Soon" is a low-tempo blues that allows Ford to display his fiery yet succinct guitar chops. The hilarious "Ain't Drinkin' Beer No More" bounces along with a somewhat drunken beat that fits the lyrical theme, nice bone solo from Green, superb bass-lines via Brian Allen, and swinging drumming from Wes Little, makes for a welcome and light-hearted addition to this solid album. The bass and drums introduce the infectiously funky instrumental "Top Down Blues." The rhythmic funk is propelled by second guitarist Audley Freed who meshes well with the band. Green's bone solo is first, followed by a snappy guitar break from the leader. The dramatic "Different People" (co-authored by Ford and Michael McDonald) is short, soulful and meaningful inclusion that adds texture to this albums colorful palette. Mel London's "Cut You Loose" has often been covered by Chicago blues artists like Koko Taylor and James Cotton (London also wrote "Poison Ivy" a hit for Willie Mabon) and is treated progressively with a driving rhythm section (especially by bassist Allen, and Little's jazzy drum kicks). Finally Ricky Peterson is allowed to roam freely on his B3 and scores on this explosive gem that Ford and his cohorts can now call their own. Maceo Merriweather's "Poor Kelly Blues" (the second cover tune,) is another good one that smartly shifts with grit. In the end Ford takes it on home with another hair-raising guitar solo. The instrumental "Thump and Bump" is just what you'd expect, second guitarist Freed is once again used effectively, rhythmically funk-fueled, laying down the theme for the band to prance over. The closing and shuffling "Just another Country Road" is an upbeat finisher where Robben leaves his mark letting loose; it's reminiscent of his classic "Talk to Your Daughter."
When I first heard Ford in the seventies he captured my mind by recording in multiple genre settings as a top-shelf sideman and occasional leader. I suspected he'd be on the scene for a long time, but didn't know which genre of music he would settle into. Ford's still multifaceted, but continues to embrace old-school rhythm and blues, soul, funk and downhome blues with his own (immediately recognizable) signature sound. At nearly 63, the ageless looking Ford continues to enhance his songwriting abilities, vocals have matured, and he's a superb band leader who understands how to create memorable and significant recordings. Oh, his guitar creativity is still focused and sharp too, but you probably already knew that… In summary, expect "A Day in Nashville" to be on many reviewers and DJ's best of discs for 2014. It's that good.
Bob Putignano
For 15 years Bob Putignano has been pivotal at WFDU with his Sounds of Blue radio show: www.SoundsofBlue.com – Previously a senior contributing editor at BluesWax, Blues Revue, and Goldmine magazines, and Music Editor for the Westchester Guardian. Putignano ca
You can listen to samples of this CD and purchase it here!