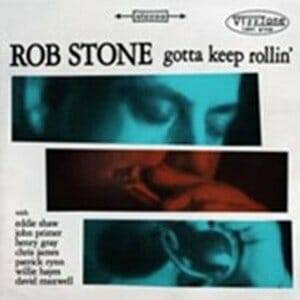 Rob Stone
Gotta Keep Rollin'
Vizztone Label Group
In 1993 Rob Stone, harp and vocals, began touring with veteran Chicago bluesman Sam Lay. They toured worldwide for four years. Also included in Lay's band were Chris James, guitar; and Patrick Rynn, bass; and they have been with Stone ever since. Stone's last release "Back Around Here" was highly acclaimed as one of the best blues albums of 2010.
James and Rynn also record as a duo. In 2009 they received their own Blues Music Award nomination for Best New Artist Debut. James and Rynn are once again reunited with Stone on this new recording, Stone's fourth.
The band includes Stone, James and Rynn; Willie Hayes, drums; and BMA winner David Maxwell, piano; then add special guests, Blues Hall of Famer Eddie Shaw, sax; BMA winner John Primer, guitar; and five time nominee Henry Gray, piano; and what you have is pure dynamite! Working with his longtime associates Stone is totally relaxed, his great harp and friendly vocals a pleasure. Stone covers six older chestnuts and has co-written six new songs with James and Rynn.
Stone's vocals are outstanding on Sonny Boy Williamson's "Wonderful Time" featuring Maxwell on piano; on Lonesome Sundown's "It's Easy When You Know How"; and on Jazz Gillum's "She Belongs To Me" with the lyric "if you fool with my woman I'll cut you one, two, three". Also covered are "Wait Baby" from guitarist Johnny Jones; Billy Emerson's "Move Baby Move" featuring Shaw on sax; and Willie McTell's "Cold Winter Day" featuring both Maxwell on piano and Primer on guitar.
The six originals are well written songs. My favorites are "Anything Can Happen" again featuring Shaw on sax; "Wired and Tired" featuring Gray on piano; and "Blues Keep Rollin' On". Stone's vocal delivery is understated and real at the same time. "Strollin with Sasquatch" is a cool instrumental with Chicago native Ariyo on piano.
This album should garner Stone the recognition he deserves. The trio of Stone, James, and Rynn call their publishing company The Blues Triad. Indeed they are.
Richard Ludmerer